In-depth study about the loss of a RAF Canberra PR.7 over Syria, in November 1956, kindly supplied by Dr. David Nicolle, with additional information about British-built Meteor fighters in service with the Syrian Air Force
---
The British and French lost several aircraft to ground-fire during the Suez War of 1956, but only one loss was the direct result of interception by enemy fighters. This, paradoxically, occurred over Syria rather than Egypt, on the last day of a conflict in which Israel, Britain, and France colluded in an attempt to remove Gamal Abd al-Nasser as President of Egypt. The Israelis suffered greater losses but this downing of a single RAF photo-reconnaissance Canberra would lead to more myths than any other incident in an air campaign which suffers from a larger number of legends than most.

According to British sources of the time, the Canberra was shot down by MiG-15s flown by Soviet or Czech instructors as no Syrian personnel were yet qualified to fly MiGs. There was also the implied assumption that no Arab fighter pilot could have shot down a British aircraft. The latter prejudice also applied to cases where Egyptian aircraft successfully intercepted, though did not actually destroy, British aircraft during the 1956 War. In reality, the Canberra PR.7 was brought down by Syrian Meteors flown by Syrian pilots under guidance from a Syrian ground controller who was, in turn, following an interception plan drawn up by an Egyptian. The British media were, however, correct in believing that Syria had no qualified MiG pilots at that time. In fact, most of Syria's MiGs were still in crates.


---
PR Canberras in the Med

The Canberra in question was a PR.7 based in Cyprus. Here, No 13 Sqn was the first RAF unit in the Mediterranean area to convert to the Canberra, having previously operated Meteor PR.10s at Abu Swayr in the Egyptian Suez Canal Zone. When the British finally agreed to evacuate the Canal Zone, No 13 had moved to Akrotiri in Cyprus early in 1956, receiving its first two Canberras in May that year. By mid-September, the squadron had four, but was also suffering serious technical and maintenance problems, primarily fuel leaks. One aircraft had already been damaged in a landing accident. Since August 1, 1956, No 13 Sqn had hosted a detachment from No 58 Sqn. This Flight had moved to Akrotiri under the command of a former fighter pilot, Flt Lt B L Hunter, in anticipation of the still-highly secret Suez operation. A third and fourth 58 Sqn aircraft arrived in September, one of them being WH799.

This combined unit was not only RAF Middle East Air Force's sole Canberra photo-reconnaissance squadron, but it lacked its own film processing and interpretation equipment. Films had to be sent to Episkopi to be processed and then brought back to Akrotiri, taking from three to four hours, whereas the newly-arrived Armée de l'Air photo-reconnaissance units, flying RF-84Fs, were fully self-contained.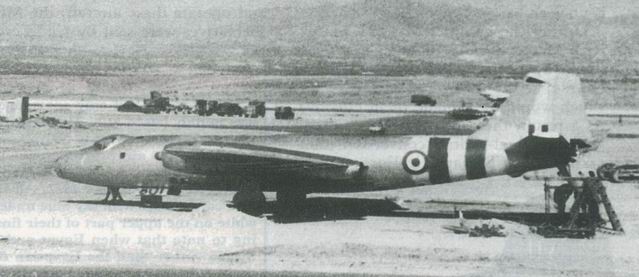 Canberra PR.7 WH801, flown by Flg Off Jim Campbell and Flg Off R J Toseland of 13 Sqn, having its tailplane repaired after being intercepted and damaged by an Egyptian Air Force MiG-15 early on November 1, 1956. The yellow and black invasion stripes were added earlier the day before, and note that the serial number, 801, has been painted on its nose undercarriage door. (Photo, via author).
Syria's Meteors

Of course, the RAF was not the only air force in the region to face equipment problems. The Egyptian Air Force was in the middle of a rushed and hugely ambitious conversion from British to Soviet equipment, causing problems which put those of No13/58 Sqn in the shade. The Syrians had also started purchasing aircraft from the Soviet bloc, but were doing so at a more measured pace and were not trying to turn themselves into a major regional power overnight.
The Syrian Air Force was still small and its first jets, a single squadron of Gloster Meteor F.8s, were its only jets. Twelve had been ordered from Britain, with two Meteor T.7 trainers, back in January 1950. This first order was delayed by a Middle East arms embargo which came into force in October 1951, but the Meteor F.8s were finally delivered between December 3, 1952, and March 9, 1953, in batches of four, and were serialled 401 to 412. The T.7s were delivered on November 4, 1952, and bore serials 91 and 92 (ex-WL471 and '472). The aircraft originally earmarked for Syria had been diverted to the RAF with the British serial numbers WK814-817, WK824-827, and WK862-WK865, but whether the same machines were eventually sent to Syria is unclear.

During the summer of 1954, six ex-RAF Meteor NF.13 night-fighters were also supplied to Syria, though, of course, without the radar equipment which would have made them effective. As a result, these NF.13s seem to have served as dual-control conversion trainers with the Syrian Air Force, serial numbers 471 to 476 (ex-WM332, 336, 330, 337, 341 and 333, respectively). A second batch of seven Meteor F.8s arrived in 1956, apparently being given serial numbers from 413. The latter were again ex-RAF machines (WA785, WL174, WK868, WK984, WH503, WE965 and WH260), and served the Syrians in the ground-attack role. A small British training mission had helped the Syrian Air Force absorb these aircraft and taught the Syrians how to maintain them, but not how to use them in air combat. Two photo-reconnaissance Meteor FR.9s, WB133 and WX972, were delivered around the same time and were probably given serial numbers 480 and 481.

The interrupted and unreliable nature of aircraft deliveries from the West, not to mention the political strings attached to all such sales, eventually caused Syria, like Egypt, to turn to the Soviet Union. In 1955, the Syrian Air Force ordered 25 MiG-15s and a small number of MiG-15UTI conversion trainers. While a training mission of Soviet and Warsaw Pact personnel arrived to teach the Syrians to maintain and operate these aircraft, the MiG-15s themselves were sent by sea in crates to Egypt. Brought ashore in Alexandria, they were then trucked to Almaza, on the north-eastern outskirts of Cairo, for assembly. Meanwhile, Syrian aircrew trained alongside their Egyptian colleagues in eastern Europe and in Egypt.



Gloster Meteor F.8 of the Syrian AF, Suez period, 1956.The Syrian AF had only one squadron of Meteor F.8s. Its number is unknown (it was probably the 1st Fighter Squadron), but it was mainly based at al-Mezze airfield, south-west of Damascus. During the Suez crisis, one flight was sent to Nairab, east of Aleppo, in the north of the country. The serial number of the aircraft which actually downed the RAF Canberra is unknown, though the machine was based at al-Mezze. The Meteor shown here is from the first batch delivered in September 1952. All had identical olive-green and light earth upper surface camouflage with sky blue undersurfaces, with individual serial numbers written in white on the upper part of their fins. This aircraft has serial number 404. It is interesting to note that when Egypt and Syria joined to form the UAR in 1958, it was the Syrian rather than the Egyptian flag and air force insignia which, with the order of their colors changed, became those of the new UARAF, even if one of the stars was removed. (Artwork by Tom Cooper)
Training the Syrians to fight

Warsaw Pact instructors were still very much new arrivals in the Middle East, and the Syrians were keen for such newcomers to teach them the skills of air interception. If the British would not help, then perhaps others would. The Syrians' first combat aircraft had been a handful of AT-6 Texans (Harvards) which were used during the first Arab-Israeli War of 1948. The Syrian Air Force had then bought a squadron of Italian Fiat G.55s and G.59s, commanded by a 1948 veteran, Sqn Ldr Kumani. More recently, it had also acquired ten rather battered Spitfire F.22s from Egypt. The first few Harvard pilots had trained in Iraq and Syria. A flying school was then established in the north of the country, outside Aleppo, and this had now been upgraded to a still very small Syrian Air Academy. Here, cadets flew Chipmunks in their first year and Texans in their second. The Academy also had some Fiat G.46s which shared several characteristics with the Air Force's more powerful G.55 and G.59 fighters.

One of the first 15 cadets at the Academy was a young man from the coastal mountains named Hafiz al-Asad while one of his instructors was Fuad Kallas, who eventually rose to the rank of Air Force General. Al-Asad came top of his class, won a trophy for aerobatics, graduated as a lieutenant and is today the country's President. In 1954, al-Asad was selected as one of an élite group of Syrian Air Force pilots to be sent to Britain to train on Meteors. They did a preparatory course in technical English only to find that the training mission had been cancelled by Britain because Syria was aligning itself with Egypt. Instead, in 1955, Hafiz al-Asad was posted to the airfield of al-Mezze just south of Damascus where he and his colleagues were given fighter training on dual-control Fiat G.59-2Bs before flying F.55s or G.59s.

Within a few months, however, al-Asad's dream of flying combat jets was realized when he was sent with another group of Syrian pilots on a six months' fighter training course in Egypt. Since neither of the Egyptian Air Force's dual control Spitfires were now airworthy, the young Syrians were sent up solo. There were no problems on the first day, but on the second one of their Egyptian instructors decided to make a rigorous test flight before allowing any of his trainees to fly. Al-Asad, who was first in the queue, described the tragedy which followed: "We saw the instructor perform some daring aerobatics, and cheered him on. He went into a half-roll and dived. It looked terrific, but he didn't climb out of the dive, and it wasn't aerobatics." The fatal crash was, in fact, the result of a maintenance failure, after which the Spitfire F.22s were grounded and the Syrians were transferred straight to Meteor F.8s.

British and Israeli Intelligence services were convinced that these Syrian pilots were training on MiG-15s but, as Egyptian Air Marshal Tahir Zaki, then a squadron leader, explained: "Syrian pilots were doing courses at Fayid (in the Canal Zone) in 1955 or 1956, but this was on Meteors, not on MiGs. Syrian cadet pilots also did initial training at Bilbays (in the Nile Delta), following the same programme as Egyptian cadet pilots." Some of these Syrian cadets had progressed to Meteors when Egypt was suddenly attacked by Israel, Britain and France.

Syrian pilots also trained on Meteors in Syria itself, and here Egyptians, once again, played a significant role in teaching them air interception and ground-attack. As Tahir Zaki said: "After the Palestine War I went back to Cairo. I spent a short time in a Vampire squadron after being in a Spitfire IX squadron until 1950 or 1951. Then when the EAF got Meteors, I and two other pilots, Izz al-Din al-Yahyadi and Mahmud Shakir, were selected as the first to fly these... Next, I was at Almaza as an instructor for new pilots at a conversion unit (using Spitfires)... In fact, I was first sent to Syria just before the 1952 Revolution (as the Syrians prepared to accept their first Meteors). The Syrian Air Force had only three squadrons: a Meteor day-fighter squadron, a Meteor night-fighter flight (delivered in 1954), and another fighter squadron with, I think, Spitfires (actually Fiat G.55s and G.59s). I had been sent to help the Syrians. They had good pilots but had no knowledge or training in air combat... they were very grateful. We also taught them to support their Army by ground strafing. The Syrians became particularly good at this afterwards.

"There were two English flying instructors in Damascus when I first arrived in Syria. They were training the Syrians to fly Meterors, but they did not teach them air combat. I returned to Egypt to serve in a Meteor squadron. Then I was sent to Syria again, early in 1956. It was probably in February, and I was sent as a member of joint staff team and as air attaché. In Syria early in 1956, I was flying in a two-seater Meteor with Hafiz al-Asad when one of the tyres burst (on take-off). I think it was the left. I told Asad that both of us must push the rudder to keep the aircraft straight when we landed. We got down OK. Asad was a good pilot."

Syria signed a defence treaty with Egypt late in 1955, resulting in a sudden Israeli attack on Syrian frontier positions which caused scores of casualties. It was intended to show the Syrians that the Egyptian defence treaty would not help them, but its effect was to drive Syria and Egypt closer together.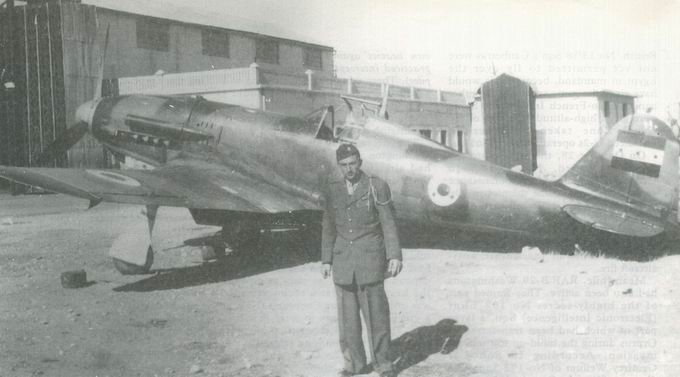 Syrian Air Force pilot Mu'asetti standing in front of a newly-delivered Fiat G.55 at an unnamed Syrian air base in the mid-1950s. Painted in typical Syrian disruptive camouflage, to help blend with the mainly Mediterranean-style countryside, its serial number (110) is written in small Arabic numerals at the top of the rudder. (Photo, Collection SHAA).
Hafiz al-Asad, standing on the wing of a Fiat G.46-4B, together with fellow cadets at the Syrian AF Academy outside Aleppo. The photograph was probably taken in 1953 or 1954, long before al-Asad became the country's President. (Photo, via author).
PR Canberras in the Suez War

In 1956, the British, French and Israeli governments secretly agreed to attack Egypt to topple President Nasser. Even quite senior British personnel had no knowledge of this collusion and, after the Israelis invaded Sinai on October 29, 1956, many men in the RAF and Fleet Air Arm thought that they would confront the Israelis, as the aggressors, rather than their Egyptian victims. From an air warfare point of view, it was expected to be easy, and RAF Middle East Command received assurances from the War Office Chiefs of Staff Committee that the "chances of detection are very small. Indeed, apart from some misfortune due to engine failure or a fortuitous interception, the risk of interception can be discounted."

The Suez War was a singularly one-sided affair, but the RAF did not intend to take chances. Preliminary aerial reconnaissance started on October 20, over a week before the war began, when a Canberra PR.7 of No 58 Sqn flew along the Egyptian coast at a height of 30,000 ft. The mission had been specially authorised by the Air Ministry and provoked no apparent reaction from the Egyptians. As Anthony Eden later wrote in his memoirs: "For some time we had been keeping occasional and informal watch on the Canal and Egyptian troop movements. We had done this by means of Canberras flying high and often a little way out to sea. There had never been any attempted interference with these flights and we believed them to be unperceived." In reality, the Egyptians were fully aware of them, but had clear instructions from President Nasser not to interfere and not to provoke the British. No 13/58 Sqn's Canberras were not yet permitted to fly over the Egyptian mainland, because this would have given the game away. On the other hand, Anglo-French Intelligence Staffs were given high-altitude pictures of the Canal Zone taken by American Lockheed U-2s operating from Turkey.

On October 28, the day before the Israelis invaded, No 13/58 Sqn Canberras began photo-reconnaissance of the Suez Canal Zone themselves. On the 29th, still before Israeli paratroopers began dropping near the Mitla Pass in Sinai, the second of these missions attracted what RAF records describe as small amounts of inaccurate anti-aircraft fire.
Meanwhile, RAF B-29 Washingtons had also been active. They formed part of the highly-secret No 192 Elint (Electronic Intelligence) Sqn, a large part of which had been transferred to Cyprus during the build-up to the Suez invasion. According to Sqn Ldr Geoffrey Wellum of No 192 Sqn: "We discovered that the Egyptians shut down their air defence radars just after midday each day. This was a great help when the British launched their attacks." Egypt's radar coverage was, in fact, rudimentary and totally inadequate. At the time, the Egyptians only had French-built ESV2 radars in the Canal Zone, six early warning and six GCI types, plus one British-made Marconi MWT XXI hi-lo radar at al-Arish. None of the newly-purchased Russian-made radars were operational and their crews were still under training.

On the other hand, some of the officers in charge of these radars were quite experienced. Sqn Ldr Hasan Tewfik, who was earlier Egypt's representative at international telecommunications conferences at Geneva and Atlantic City, had established the Egyptian Air Force's Radar School for officers and warrant officers in Heliopolis, but had been forced to retire following the 1952 coup. Now his students were in charge and their radars were more effective than has generally been realised. Air Marshal Shalabi al-Hinnawy, who then commanded Egypt's recently-formed MiG fighter squadron, recalled the first day of the Suez War before the British and French had officially entered: "During the war I was in a cinema when I was summoned to meet Sidqi Mahmud (the EAF Commander) at the Air Force HQ. He asked me if I would prefer to fly a MiG-15 or a MiG-17... I told him it made no difference but that by the following day I hoped to have many pilots flying solo on the MiG-17 and and that by the afternoon we would be ready to fly a mission. At 3 o'clock that afternoon (October 30 or 31), a British aircraft flying near the Suez Canal Zone area was detected over Port Said (probably north of it). Four of our aircraft were scrambled and intercepted the British plane. We got behind it and in range. We thought it was a Halifax (like Egypt's own 'heavies' against whom Hinnawy had practiced interceptions while a Vampire pilot). There was no return fire and so I asked our ground control, 'Should I open fire?' I was at about 600 m range. The answer was, 'Don't fire, because the English have not yet declared war'."

The aircraft was almost certainly a Washington and two British Canberras had already been fired upon though they, unlike the B-29, had been over Egypt rather than over its coastal waters. To quote Prime Minster Eden again: "Late on the evening of the 29th I had a talk with the Minister of Defence and the Chief of Air Staff. I told them how important it was for us to have information upon which we could depend for certain, as early as possible the next day. A dawn reconnaissance was ordered by four Canberras flying at a great height, thirty to forty thousand feet. They would locate and, if possible, photograph the opposing (Egyptian and Israeli) forces. The Canberras carried out their instructions." Two of the Canberra PR.7s were intercepted and attacked during these early morning sorties. One crew, consisting of Flg Off Jim Campbell and Flg Off R J Toseland (flying WH801), saw cannon shells from a MiG-15 flash past both sides of their cockpit. The Canberra was hit in its port elevator but managed to escape. The second aircraft (WT540), flown by Flt Lt Hunter with Flg Off Erquhart-Pullen as his navigator, was also intercepted and fired on, but not hit. Thus, the first damage inflicted in the Anglo-French air war against Egypt was done by the Egyptians and, as a result, the first wave of British air raids was carried out from higher altitude than originally planned.

The shock was clearly expressed in Eden's memoirs: "Despite their altitude, all four were located and intercepted and some were fired on. All returned safely to base, but one machine was damaged. This interception was a brilliant piece of work by any standard and when it was reported to me the next day it gave me grim cause for thought. I kept my own council. In the later fighting the Egyptian Air Force was, by contrast, completely ineffective. I do not know the explanation. Maybe the pilots of another nation were flying MiGs that dawn."
At the time, these interceptions caused grave concern among RAF commanders who ordered that black and yellow 'invasion stripes' be added to British and French aircraft on October 30. Many were painted in a very crude manner while similar stripes appeared on Israeli aircraft by November 2. The impact on the Canberra aircrew of No 13/58 Sqn was more muted. Some from No 58 remembered that their parent squadron had experimented with a from of periscope sextant for astronavigation that had been fitted to early model Canberras. It enabled navigators to look behind the aircraft and, by this means, the contrails of attacking fighters could be spotted quite easily. Consequently, periscopes were fitted to No 13/58 Sqn Canberras as a local modification at Akrotiri.

Flt Lt Hunter, the pilot of one of the aircraft which had been fired upon over the Canal Zone, recalled: "One of the problems of flying the (photo-recce) Canberra on operations was that the pilot was involved very much in fling the aircraft as a steady platform for photography. The navigator was one hundred percent involved in taking the photographs... So we had, as crew members, complained that the PR Canberra was not a good aircraft when it came to looking after your own tail. Because of the MiG interceptions, HQ decided it would be safer to fly operational sorties in the future with a lookout occupying the navigator's normal position, a third crew member with a periscope mounted aft of the aircraft. He was supposed to be there doing nothing but protecting the tail from attack. It (the periscope) became very much temporary equipment. I think all our aircraft were so fitted."

Operation Musketeer, the Anglo-French air and later land assault against Egypt, was planned to start at 1615 GMT on October 31, though the first bombs only started to fall around 2200 hr Cairo time. By then, RAF photo-reconnaissance Canberras had flown four missions on the 30th and 31st, the French RF-84s flying seven. No 13 crews sometimes flew No 58 aircraft, and vice-versa, occasionally being given very broad areas to photograph, in which case the aircraft carried seven separate cameras.

Syrian AF personnel under training in Egypt were inevitably caught up in the conflict, most obviously SAF maintenance personnel at the Canal Zone air base of Abu Swayr. Here, most of the newly-assembled Syrian MiG-15s and MiG-15UTIs were destroyed on the ground, not by the Valiants and Canberras which attacked on the first night, but by Venoms and F-84Fs on November 1. British intelligence believed that 20 Egyptian MiGs, 20 Egyptian Il-28s and 20 Syrian MiGs escaped, apparently on the basis that they disappeared from the reconnaissance record. In reality, the only Syrian aircraft to escape were four MiG-15UTI trainers, which were flown to Hama in Syria by Czech instructors. Two MiGs were, in fact, seen by RAF Venoms about 100 km from Cyprus, heading for Syria. A few Egyptian MiGs and some Il-28 jet bombers similarly got away to Syria and Saudi Arabia. Others survived by being dispersed and carefully camouflaged within Egypt itself.



English Electric Canberra PR.7, WH799, of No 58 Sqn RAF, on attachment to No 13 Sqn, Akrotiri, Cyprus, 1956. This aircraft was shot down by Syrian AF Meteor F.8s over the Syrian-Lebanese frontier on November 6, 1956, the last day of the Suez War. They yellow (actually a mix of Golden Yellow and Middle Stone, as there was not enough Yellow paint on Cyprus) and black Suez invasion stripes were applied crudely in a hurry on October 30, following the interception of two Canberras by Egyptian MiGs that morning. Comparable stripes were added to French and Israeli aircraft. British reconnaissance Canberras had their small serial numbers covered by the stripes so, to identify the aircraft while on the ground, the numbers alone were painted on the front undercarriage doors. At this period, No 58 Sqn's badge consisted of a black owl on a white disc on the fin; in later years it was changed to a red owl. It is unconfirmed whether the badge was carried at the time the aircraft was shot down. (Artwork by Tom Cooper)
First flight over Syria

When the fighting first began, the President of Syria was preparing to visit the USSR. He immediately telephoned President Nasser of Egypt, saying that he intended to call off his trip, but Nasser urged him to go and try and win Soviet support for Egypt. The Syrian President was actually meeting Krushchev, Bulganin and Marshal Zhukov when news came in that the British and French had started bombing Egypt. Despite his pleading, the Soviet leadership stated that they would not risk starting a Third World War for the sake of the Suez Canal.

In Syria, the government expected British and French reconnaissance overflights and these duly occurred and steadily increased as the war continued. For their part, the British and French were anxious to verify reports from the US embassy in Damascus that Soviet MiGs were being delivered to secret airstrips in the Syrian desert. One report spoke of arms shipments arriving at the port of Latakia while "not more than 123 MiGs" had arrived in Syria! While such statements now sound ridiculous, in 1956 they caused genuine concern at GHQ in Cyprus. Here, the Anglo-French were also keen to locate those Egyptian aircraft which had supposedly dispersed to other Arab countries.

Within Syria, a group of nationalist officers, led by Abdel Hamid al-Serraj, blew up the IPC oil-pipeline from Iraq to the Mediterranean coast, an action which eventually had a profound impact on Western oil supplies and Britain's currency crisis. The original plan was for these Syrian officers to blow up both the British-owned IPC and the American-owned TAP pipelines when they received a pre-arranged signal from President Nasser. In fact, Nasser sent this message before suddenly remembering that it applied to both pipelines. The TAP line belonged to the Americans and the US was being highly critical of the Anglo-French assault, so President Nasser hurriedly sent another message telling al-Serraj to attack only the IPC pipeline.


The Syrian response

Tahir Zaki was at that time an Egyptian air attaché in Damascus and naturally he was kept fully informed of enemy war sorties over Syria. The most threatening were, he said, two British Canberras which regularly, "flew over Lattakia, Aleppo, Homs, towards Damascus, but five kilometres from Damascus they would turn westward over beirut back towards Cyprus." The Syrians' only air defence system relied on police lookouts around the frontiers and along the coast. They telephoned their local police HQ if they spotted an unfamiliar aircraft. As a result, it took a long time for such warnings to reach the Syrian Air Force, and the intruder was usually long gone before a fighter took off. On the other hand, RAF Canberras generally followed a similar flightpath. One of the Syrian Air Force ground controllers, Major Moukabri, described how, by taking a sequence of telephone calls, he could co-ordinate the bearings of the enemy aircraft, deducing it track and approximate speed. Meteors would then take-off and attempt an interception along the extrapolated line of flight.
Syrian Meteor F.8s had been scrambled on several occasions, but had rarely seen the enemy and certainly not brought one down. One of their pilots was Lt Hafiz al-Asad who, when the war began, was moved from his original posting at al-Mezze to Nairab, just outside Aleppo. Shortly after 0880 hr on November 6, the final day of the shooting war, the Syrian frontier post at Abu Kamal, on the River Euphrates, telephoned to say that a British Canberra was operating at extreme range from Cyprus on a mission to photograph airfields in Iraq and Lebanon as well as Syria. Lt al-Asad was sent in pursuit and not only found the British reconnaissance aircraft, but was able to open fire from a distance before the Canberra escaped towards Cyprus.


The fatal mission

The crew that al-Asad pursued had found their targets covered with cloud and on their return they also reported being "chased by Meteors in unidentified markings." Air HQ in Cyprus insisted that a second Canberra immediately be sent to get the required photographs of Syrian airfields and the oil pipeline. Flt Lt B L (Bernie) Hunter decided to fly this sortie himself with Flg Off G R (Roy) Erquhart-Pullen as his navigator. Together they had been in one of the Canberra PRs intercepted and fired on by an Egyptian MiG on October 30. The third member of Hunter's crew was Flt Lt A C (Sam) Small, another Canberra pilot, who had come out to reinforce the squadron during the Suez crisis. He was there to watch the Canberra's tail, and this time they flew WH799, a No 58 Sqn aircraft.

Bernie Hunter described the first, uneventful part of the mission: "So we went off (at 12.30 hr) to photograph Riyaq (in the Lebanon), Aleppo (Nairab airbase), and al-Rashid (near Baghdad in Iraq). Navigation was extremely good, under cloud cover, then towards 12,000 ft, then 10,000 ft slowly in order to get overlaps."
By this time, Syrian Meteor pilots were practically living in their cockpits, and the problems they faced when trying to intercept the British and French reconnaissance overflights were formidable. Tahir Zaki, who was working with Major Moukabri, explained: "The Syrians had no radar, so I gave the SAF Commander a plan to shoot down these Canberras using just telephones for communication. Above all we needed a direct telephone link between Lattakia and the main airfield at Damascus." The appearance of the Canberra was duly reported by telephone, this time entering Syrian airspace over Lattakia. Six Syrian pilots had been sitting in readiness in their aircraft since 1000 hr, two apparently in Nairab (Aleppo) and four in al-Mezze (Damascus).

Tahir Zaki continued: "Since these were two targets (the Syrian ground observers were mistaken in this, unless a French RF-84 was also flying a reconnaissance mission), the Syrians had to send up more than one aircraft. One of the interceptor pilots was Hafiz al-Asad. But the actual shooting down was by al-Garudy and by al-Assasa, the CO of the Meteor squadron." There is some confusion in the Syrian and Egyptian accounts at this point, since it is not clear whether al-Garudy and Assasa formed a pair, or were each leading a pair of Meteors. The latter was probably the case since the Syrians thought they shot down two Canberras while the Canberra crew believed that they had been attacked by two different pairs of Meteors.

"When the Canberra passed over Lattakia they telephoned us in Damascus and we told the pilots to start their engines and take-off. The Canberra was over Aleppo by then. There was usually low cloud over Damascus at that time of the morning during that time of year, so we told the pilots to stay hidden in these clouds. When they got the message that the Canberra had passed over Hims they were to climb out of the clouds and prepare to attack. The result was a successful interception.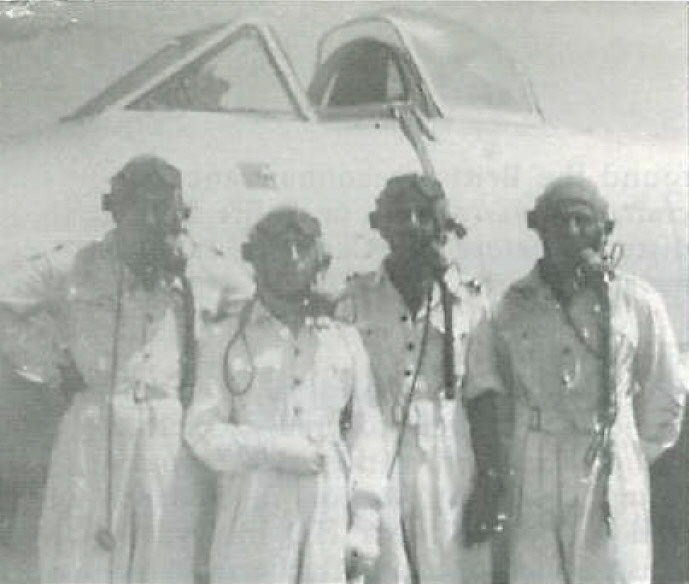 The Royal Egyptian Air Force received its first Gloster Meteors late in 1949. Standing in front of an uncamouflaged Meteor F.4 following its delivery are, left to right, Fikri Zahir, Tahir Zaki, Salam Nofal, and an unnamed, perhaps British pilot. When the Suez crisis flared up, Tahir Zaki was in Syria helping to train SAF pilots on Meteors, and he subsequently helped draw up the interception plan which resulted in the downing of the RAF Canberra. (Photo, T Zaki, via Dr. David Nicolle).


It was not the clouds which worried Flt Lt Hunter, but the occasional patches without clouds. As he recalled: "We were heading towards Damascus when, to our horror – blue sky! Normally a pilot's dream, but under operating conditions we were, to say the least, in a very unenviable position. My first reaction was to climb on full power to get back into cloud cover, as it would have been absolutely fatal if we tried to go over Damascus airfield at that height and speed."

Major Moukabri, the SAF ground controller, recalled that the two Meteor pilots (or pairs of pilots) could not see the Canberra until they were advised to look down. They then made a stern attack. Flt Lt Hunter continued the story: "At about the same time (that he decided to climb back into cloud cover), Sam Small warned of a pair of Meteors coming from port of starboard. I can't remember which. I had to turn into their attack... So there were three factors in this particular problem, none of which was helpful to the others as no matter where the Meteors were coming from, I had to turn towards them. It went on like this for a few minutes, which seemed like several hours, and during the first attack we did not get hit. Then Sam said almost immediately after the first attack, with us still climbing, that another pair were coming in, so we turned again. I turned towards them and that's when the starboard engine was hit.

"I had been calling Roy, who was in the prone position to take photographs, to come back to the rumble seat (a spare seat alongside the pilot). He got the message, I think, but did not come back. Eventually, it got to the stage where I was rapidly losing control of the situation, one engine out, still burning. I told Sam to get out, to eject, and from the rear navigation position he ejected quite safely. We were still under attack and I started the desperate business of trying to get hold of Roy. I never did contact Roy on the R/T and, as far as I know, he must have gone back to the rear navigation position to try and eject. Since the ejection seat had gone, I assume he tried to bale out. I am not sure, but I think I heard a big thud on the aircraft which could have been Roy's body hitting the tailplane. I suspect it was. I then ejected. It seemed only seconds before I hit the ground and broke my left ankle. The sequence of events was very quick so I couldn't possibly estimate how low I was, but I remember thinking at the time, if I don't get out now I won't get out. I didn't know whether I got out over the Lebanon or not, my mind was revolving around the fact that if I'm in Syria they're not going to be very friendly."

In fact, Hunter's Canberra crashed just inside Syrian territory, while he and Sam Small landed virtually on the fronteir, but just on the Lebanese side. Tahir Zaki believed that Flg Off Erquhart Pullen was the pilot of the Canberra which fell inside Syria and that Flt Lt Hunter was the pilot of a second Canberra which fell further inside Lebanon. Hunter, unlike many RAF aircrew, did not carry a pistol and he believed that this saved his life. Certainly the crowd which gathered around him after he landed assumed he was an Israeli and started to rough him up until an English-speaking local teacher told them to leave him alone. Flt Lt Hunter then explained he was from the RAF, whereupon things quietened down. The teacher handed Hunter over to the border post where he was interrogated by a Syrian officer. He and Sam Small, who was brought in soon after, claimed that they had been doing a weather reconnaissance over Lebanon and had got lost. The people on the ground may not, in fact have realised that there had been an air combat, but may merely have heard aircraft in the clouds above.



Two views of Syrian Air Force Meteor F.8s, two above seen flying over Syria, probably late in 1952.The aircraft bellow - serial 414 - was photographed just prior to delivery at Moreton Vallance. (MAP, via Tom Cooper)
The Aftermath

As suspected by Hunter, Flg Off Erquhart-Pullen was killed when the Canberra crashed. The two survivors were taken to a hospital in Beirut where they expected to remain for some time as prisoners of war. However, after a visit by the British deputy air attaché in Lebanon, both were spirited away in a small boat to Cyprus.

About 40 minutes before sunset, on the same afternoon that Hunter's Canberra was shot down, Hafiz al-Asad was again scrambled in pursuitof another intruder. It may have been an American U-2, since the CIA were also looking for the 100 or so MiGs which were supposed to have arrived in Syria. The young pilot tested his brakes before taking off and found them faulty, but took off anyway. Al-Asad failed to find the intruder and now, with darkness falling and his radio unserviceable, he had to land back on an airfield which had no night-flying aids. He could hardly see the runway and the wind direction had changed during his flight. As a result al-Asad landed downwind and overshot. His faulty brakes could not cope. The Meteor smashed through a small orchard and headed for a stone wall. Al-Asad opened the cockpit hood while steering with the rudder, was bounced over the wall by a water conduit and just missed the tents of a Palestinian refugee camp. The aircraft smashed down again, tearing off its undercarriage. The engines seized up and the Meteor finally came to rest on its belly. Al-Asad leapt out and dived into a ditch, fully expecting the burning aircraft to blow up. Then he heard people form the refugee camp running about amongst the trees, apparently looking for his body because the aircraft's cockpit was empty. "No doubt," he recalled, "they expected to find a corpse hanging from a branch."

Lt al-Asad was subsequently reprimanded and given a suspended jail sentence for taking off with defective brakes and thus endangering the aircraft. Many of his colleagues, however, blamed the base commander for sending him on a mission so close to nightfall from an airfield lacking night-landing facilities.

At 1700 GMT on November 6, General Keightley received orders from London and Paris that Anglo-French forces must cease fire from midnight local time that day. By the end of hostilities the Canberra PR.7s of No 13/58 Sqn had flown 44 operational missions for the loss of one aircraft shot down over Syria. Top secret reconnaissance flights over Syria continued after the war had officially ended but, because of the loss of Flt Lt Hunter's aircraft, they were escorted by Hawker Hunters of Nos 1 and 34 Sqns, RAF, as they withdrew from their target areas. Similarly, the French RF-84Fs were only sent over Syria in pairs.

RAF reconnaissance missions were maintained through 1957 and 1958, apparently only being ended when Syria and Egypt united to create the more formidable United Arab Republic (UAR). During this period, one of No 13 Sqn's main tasks was to provide photographic coverage of airfields in those Middle Eastern countries which were being supplied with Soviet aircraft, and also to look at new or modernised airfields. During these clandestine flights, targets were not specified in the official records, while flightpaths were described as "Routes designated One, Two...," and so on in the Operational Records Book. Many of these post-Suez Canberra missions were, however, aborted because of weather conditions which led to contrails which were visible up to 50,000 ft, and the risk of interception by Arab MiGs was now recognised as serious.

Meanwhile, Syria ordered around 60 MiG-17s near the end of 1956, the first batch of 17 arriving in January 1957. They were the first to enter Syrian Air Force service. Even then, there were no Syrian pilots yet qualified to fly them, so Egyptian Air Force personnel flew the dramatic display of new Soviet-supplied hardware over Damascus on Syria's National Day on April 17, 1957. One of these Egyptians was Faruk al-Ghazzawi, who had damaged an Israeli Ouragan during the 1956 war. The enemy aircraft crashed on its way home and al-Ghazzawi ended his Air Force career as a Brigadier General, turning to Islamic religious scholarship in his retirement. The rest of Syria's MiG-17s were delivered later in 1957.

After the Suez War, Sqn Ldr Al-Assasa, the Meteor pilot who shared credit for the downing of Hunter's Canberra, was one of 18 pilots sent to Poland to train on MiG-17s. He had earlier been trained in Italy by British instructors, and rose to become the commander of all Syrian Air Force fighter squadrons. Munir al-Garudy, who shared the kill, became the Sqn Ldr in command of a mixed Syrian and Egyptian MiG-17PF night-fighter unit based at Inchas in the Nile Delta following the creation of the United ARab Republic. Another of the Syrian pilots in this same UARAF MiG-17PF squadron was Hafiz al-Asad. Tahir Zaki returned to Egypt, though not before his role in planning the destruction of the RAF Canberra had spread beyond the borders of Syria. As he recalled: "I came back from Syria in 1958 because there was no need for an air attaché after Egypt and Syria were unified. While I was in Syria between 1956 and 1958, I was invited to Jordan by King Hussein, who wanted to know how the Canberra had been shot down. I had to get permission from Cairo before I could go to Jordan, but they said it was OK. When I was in Jordan, I instructed some of the Jordanian Vampire pilots about combat skills and things like that. Back in the early 1950s I had sometimes flown Vampires (Egypt had given a squadron of Vampires to the Royal Jordanian Air Force just before the Suez War). I didn't fly with the King, though, because this was too much of a responsibility."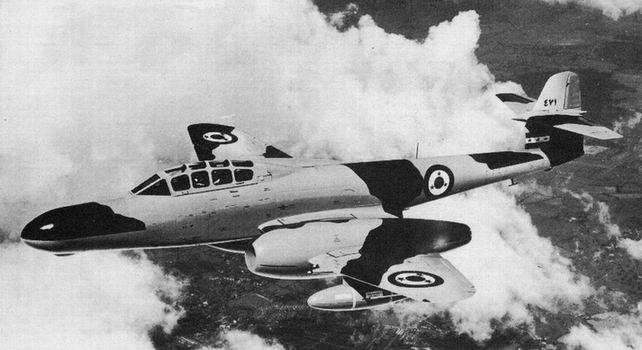 Between others, the SyAAF also ordered six Meteor NF.Mk.13s. Their serials were 471 thru 476 and they should have been delivered in 1954. (AWA via Tom Cooper)
---
Main sources:
- Wings over Suez, by Brian Cull, David Nicolle, and Shlomo Aloni (Grubb Street, London, 1996);

- interviews with Air Marshal Tahir Zaki, Air Marshal Shalabi al-Hinnawy, Air Cdre Fuad Kamal, and Wg Cdr Abd al-Moneim Tawil by Dr. David Nicolle.