Contributed by Dr. David Nicolle
May 11, 2009 at 10:42 PM
Extract from the article "Arabian Texans: T-6s, Harvards etc. with Middle East Air Arms" by Dr. David Nicolle. Re-posted at ACIG.org with the author's kind permission.

---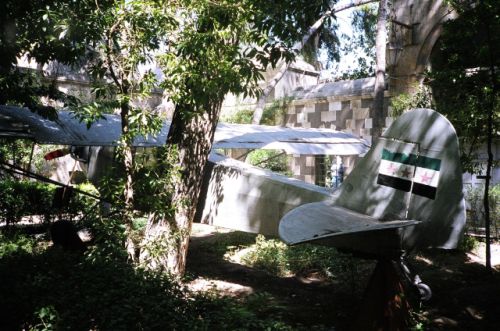 The first Syrian Arab Air Force aircraft was a Piper Cub used to patrol the skies of Damascus while the French were pulling out of the country, releasing it into independence. Today there is a Piper Cub at display in the Military Museum in Damascus: sadly, it is almost hidden between the trees and damaged in several places. (photo: Tom Cooper)
---


The history of Syria's T-6 Texans is more difficult to chart than that of the Harvards or Texans in Egyptian, Jordanian or Lebanese service. It was also much more eventful. The Syrian Air Force (SAF) was created in the spring of 1946 when French occupation troops still controlled much of the country. Its first, and for a while only, machine was a Piper Cub which patrolled over the capital of Damascus while the French withdrew under British pressure in April 1946.

Not until 1947 did the Syrian government consider strengthening its armed forces and, having no one else to turn to, they asked the USA for help. In May of that year, the US Government reportedly supplied 20 reconditioned Texans and two additional Cubs almost free of charge as a goodwill gesture. The evidence strongly suggests that the Syrians only got ten Texans on this occasion, and that the 20 Texans eventually used by the SAF included ten former RAF Harvard IIBs transferred from South African stocks in 1956. The latter were given temporary South African civil registrations and were refurbished by the Field Company at Rand Airport before being sent to Syria.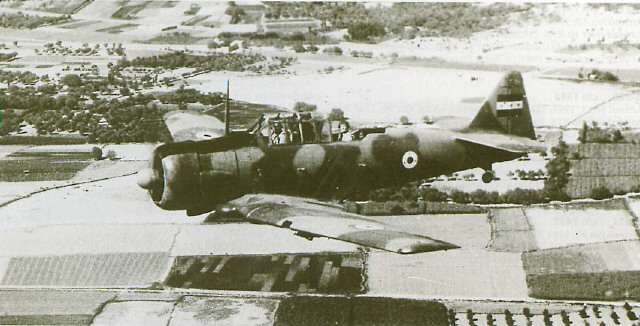 A Canadian-built T-6 Texan of the Syrian Air Force shortly after delivery in 1948. It carries the serial number 204 in small white Arabic numerals near the top of its tail-fin. Upper surface camouflage was light earth and spinach green with sky-blue undersurfaces. Guns and bomb-racks are visible beneath its wings and a slot for a pair of pillar-mounted Browning 0.303 machine-guns has been cut into the top of the fuselage behind the observer's seat, though the guns have not yet been mounted. This Texan is believed to have formed part of the SAF's 2nd Fighter Squadron based at al-Mezze outside Damascus during the Palestine War of 1948, rather than of the 1st Fighter Squadron based at Istabl in southern Lebanon. (via Dr. David Nicolle)



No more American equipment would follow the first ten Texans and within a few months US foreign policy was effectively hijacked by the pro-Zionist lobby. Some of the 20 AT-6 Texans became the SAF's first two combat squadrons, initially based at al-Mezze near Damascus, while others either remained in store of were used for training. At first, only one squadron was converted for the ground-attack role, though the second squadron probably followed suit. According to an unofficial Israeli source, the pilots and groundcrew were… "a mixed bag of Germans, Yugoslavs, Italians and Syrians who had undergone training in the French Air Force." A small group of Syrian pilots did complete their training in February 1948 while a handful of others had nearly completed courses in Iraq, under the auspices of the Royal Iraqi Air Force.

None of these young men had any combat experience, but there were soon enough Syrians to fly the SAF's operational Texans. The four Douglas DC-3s of Syria's newly-formed national airline, Syrian Airways, would also be taken over to form a transport squadron when the Palestine War broke out in May 1948. At this point Pan American Airways withdrew its support and its personnel. As none of the newly trained Syrian pilots were qualified to fly multi-engined aircraft, it is unclear who then flew the four DC-3s. Some REAF multi-engine pilots and ground support personnel from Egypt were clearly preparing to do so before the fighting began, but in the event, none seem to have gone to Syria. So this remains one of several mysteries surrounding the early history of the SAF.

On April 12, 1948, Cairo's English language newspaper, The Egyptian Gazette, reported that the Palestine Liberation Army which was preparing to resist Zionist forces in Palestine once the British withdrew: "will soon be supplemented by an air arm now being assembled in Damascus." The aircraft in question were almost certainly the SAF's first squadron of armed Texans, perhaps also the Dakotas.

The first reported combat action by Syrian Texans took place on the second day of the war, May 16, 1948, in support of Syrian ground forces which were moving into Palestine in the direction of fortified Israeli settlements in the Masada-Sha'ar Ha'Golan area. SAF Texans also bombed Israeli patrol boats in Tiberius Harbor on the Sea of Galilee during the morning of May 17 and intercepted an Israeli Auster nearby. They claimed to have shot it down, though in fact the Auster escaped. On may 19, again over the Galilee front, an SAF Texan intercepted an Israeli Auster but instead of trying to shoot it down, the Syrian pilot followed the Israeli back to his base at Yavneel before himself returning home. This was a sensible piece of reconnaissance work which enabled a section of Syrian Texans to attack Yavneel later that day.

As a result, the Israeli Galilee Squadron was obliged to move to a less convenient airfield at Ma'hanaim. This was in turn attacked by Syrian Texans on several occasions though the Israeli aircraft, hidden beneath surrounding trees, escaped serious damage. Consequently, the Israeli Galilee Squadron was again forced to move on May 27. This time it went to the large and recently-evacuated British airfield at Ramat David.

On May 21, Syrian Texans bombed Israeli military vehicles and fortified positions as well as dropping propaganda leaflets. The next reported action by SAF Texans was on June 4 when they hit Israeli positions at Rosh Pina and Malkiya. The following day they returned to strafe Israeli forces in various parts of northern Palestine. On June 10 Texans pounded Mishmar Ha'Yarden—their final action before the UN-brokered first cease-fire came into being. By this time, the newly-created Israeli Air Force (IAF) had potent Avia S.199s, which were Czech-built versions of the German Messerschmitt Bf 109. Though difficult to fly, these Avias completely outclassed the SAF's handful of converted Texans, so it was just as well for the Syrians that the IAF concentrated its Avias on the southern front, to face Egypt's comparable Vickers-Supermarine Spitfires. Meanwhile, additional Syrian aircrew, probably including those who had recently completed their initial training in Iraq, were continuing to train at al-Mezze near Damascus. Here their instructors included at least one foreigner, a Yugoslav pilot named Mato or Matthew.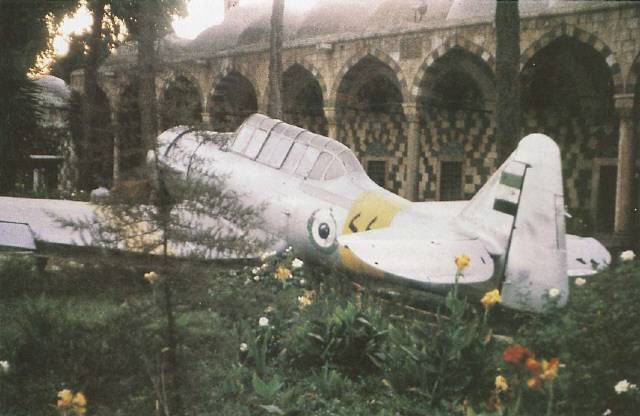 Above and bellow: Syrian Texan on permanent display in the military museum in Damascus. It still has the early form of green, white and black SAF national markings, though the three small red stars on the white ring have virtually faded from view. This machine's bare metal finish with broad yellow trainer bands around the wings and rear fuselage, as well as its two-digit Arabic serial number 44, suggest that it was last used as an advanced trainer, probably at the SAF's Flying College just east of Aleppo around 1958. (Photo: Dr. David Nicolle)





Ten Day Conflict
The second phase of the Palestine War, called the Ten Day Conflict, began on July 8 with an all-out Israeli effort to conquer the UN-designated Arab areas of northern and central Palestine. Particular attention was paid to Syrian forces defending eastern Galilee. In the north of Palestine, the Syrians, Lebanese and local Palestinian forces appeared to have been taken by surprise and it was not until two days after the fighting re-erupted that SAF Texans returned to the battle—at dawn on July 10—in support of their ground troops. Some of these missions were flown from the Syrians' as-yet secret grass airstrip at Istabl in southern Lebanon. One of the pilots who took part was Lt Faisal Nadif, on his first combat mission. Nevertheless, the missions proved so effective that the Israeli Northern Front HQ demanded air cover from the Israeli Air Force.

Two Avias were promptly sent up from Herzliya, the IAF's fighter base north of Tel Aviv. These soon encountered two Syrian Texans patrolling at about 6,000ft (1,830m) above Mishmar Ha'Yarden. Since the rear or observer position of SAF Texans had been fitted with guns, the two Israeli Avias attacked from below.

Maurice Mann, a former RAF pilot now serving as a mercenary in the IAF, claimed to have shot one Texan which reportedly crashed in Arab territory near Mishmar Ha'Yarden, its crew supposedly being killed. Evidence from the Syrian side, however, suggests that this Texan did not crash and that its crew were unhurt. The second Texan (serial number 206), flown by Sergeant al-Abed with First Mechanic Muhi al-Din Wadi as his observer/gunner, retreated across the Syrian frontier pursued by an Avia flown by another mercenary pilot, Lionel Bloch from South Africa. The final confrontation came near Qunaytra, the regional capital of the Golan region of Syria. Here Bloch came in to finish off the Texan whose gunner/observer had apparently been wounded. But the T-6's gunner, Muhi al-Din Wadi, returned fire and hit the Israeli fighter which crashed outside Qunaytra, killing Bloch.

Suprisingly, the details of Bloch's fate remained unkown to the Israeli Air Force, despite the fact that the Israeli Intelligence Service and Military Archives promptly received a document describing the event in detail. This was the personal diary of Lt Faisal Nadif, of which more later.

As usual, Israeli Air Force sources seemed unable to accept that one of their aircraft could have been shot down in air combat by Arab opponents, and instead suggested that the unfortunate Lionel Bloch had shot off his own propeller. The SAF Texan returned to its base safely, though its observer-gunner, Muhi al-Din Wadi, subsequently died of his wounds. The family of the Texan's pilot, Sergeant al-Abed, came from Homs but originated in Saudi Arabia. Many years later, a younger member of this large and influential family operated SAM-6 surface-to-air missiles against the Israelis, while another member of the family became a Lieutenant General in the Syrian Air Force.

The Israeli offensive in Galilee failed to dislodge the Syrians from around Mishmar Ha'Yarden. Meanwhile, SAF Texans were back in action on July 12, attacking Haifa Harbor and bombing Afuleh where Israeli anti-aircraft gunners claimed to have damaged a Syrian aircraft. A Syrian Harvard may also have been responsible for a mistaken attack on a Jordan Arab Airways DH Dragon Rapide flying from Damascus to Amman on July 14. Apparently the Rapide strayed over the combat zone of northern Palestine and, being mistaken for one of the Dragon Rapides used as light bombers by the Israelis, was fired on and slightly damaged. Other SAF Texans attempted to bomb Ayelet Ha'Shakhar and Tuba.

On July 16, Syrian Texans were in action again, attacking enemy positions at Afuleh and Ayelet Ha'Shakhar, where one was downed by groundfire. The pilot Lt Faisal Nadif and his observer/gunner, whose name is not known but might have been Fuad, were both killed. Although no official accounts of this incident have been released by the Syrian military authorities, some information lurked in Israeli archives for decades. Some of the documents add touching human details to what was otherwise a small incident in a wider war—see separate item.

Early in the morning of July 18, an Israeli Air Force Boeing B-17 Flying Fortress bombed the airfield at al-Mezze outside Damascus where some of Syria's Texans were based, though the Israelis seem to have been unaware that one of the SAF's two Texan squadrons was operating from the temporary grass airfield at Istabl in Lebanon's Beqa'a valley. The B-17 then attacked the ancient city of Damascus itself, killing many civilians. The second UN-brokered truce came into effect the next day. It was not until October 29 that fighting flared up again in northern Palestine and by then the situation in the air had changed completely. The SAF's handful of Texan armed trainers was not only outclassed but hopelessly outnumbered by the Israeli Air Force's squadrons of high-powered modern fighters and bombers. Not surprisingly, therefore, there were no further references to Syrian Texans being thrown into this increasingly uneven battle, though Israeli reconnaissance photographs did show some at al-Mezze airfield on November 19.

Nevertheless, the Syrian Air Force continued to operate Texans in the advanced training role for many years. The original Mk.IIAs had been given serial numbers in the 200 range, photographs showing 204 and 206—the latter being the wreckage of Faisal Nadif's aircraft shot down over Ayelet Ha'Shakhar on July 16, 1948. A T-6 Texan preserved in the Damascus Military Museum is described as the machine that downed the Israeli Avia fighter over Qunaytra, though in reality it is not. Until recently this Texan still had its pre-1958 SAF markings, though with the two-digit serial number 44 which might indicate that it was once numbered 244, but this is unclear. The aircraft itself is probably one of those Texans which the SAF used as advanced trainers at the Aleppo Flying School in the 1950s. Some were survivors of the Palestine War while others were second-hand aircraft purchased later. At Aleppo they flew alongside Fiat G.46 and DHC Chipmunk primary trainers.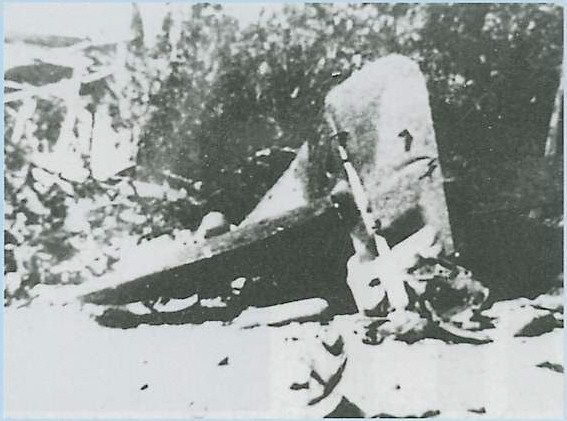 Photo on last page of the article: The wreckage of Syrian Texan 206, which was shot down and crashed at Ayelet Ha'Shakhar on July 16, 1948. This was the same aircraft which had itself shot down an Israeli Avia six days earlier. The earth and green camouflage can be seen on the tail, along with part of its Syrian Air Force markings. (IDF Archive, via Dr. David Nicolle)

The Syrian Air Force T-6 Texan of the 1st Fighter Squadron, serial number 206, in which Sergeant al-Abed and First Mechanic Muhi al-Din Wadi shot down an Avia S.199 flown by a South African mercenary pilot, Lionel Bloch, over Qunaytra on July 10, 1948. This was the first time that a Syrian aircraft had shot down an enemy plane in combat. Six days later this same Texan was brought down by Israeli ground-fire over Ayelet Ha'Shakhar, killing its crew. On the other hand, it is possible that the Texan suffered catastrophic structural failure while pulling out of its strafing dive. Since First Mechanic Muhi al-Din Wadi had been mortally wounded by gunfire from the IAF Avia on July 10, the Texan must itself have suffered some damage. Perhaps the repairs carried out at the grass airstrip of Istabl were inadequate. (artwork by Tom Cooper)
---


Anatomy of A Shoot-Down—Lt Faisal Nadif's Short Operational Life

Four documents record the last moments of Nadif's flight.
The first, an Israeli Intelligence Report written for the Carmali Brigade HQ, covered the event in expected stark manner:
- The Syrian Harvard crashed at 9.28 hours. It was a Canadian-built Harvard armed with two 0.303 Browning machine-guns, a radio, Syrian Air Force markings on the wings and the serial number 206 [thus being the same aircraft which had shot down Lionel Bloch] on the tail. The pilot was an officer, the second crew member being a bomb-aimer and radio-gunner. Both had parachutes. They both wore American flying overalls made of light silk, crepe shoes and both carried pistols. The plane was shot down as it was diving towards the site. During its dive, fire was opened against the aircraft by 20mm guns and a number of machine-guns which were in the settlement as anti-aircraft defences. The aircraft's right wing was shot off, whereupon the aircraft rolled a number of times before crashing… The two crew members died by crushing as a result of the crash, though there were signs that the bomb-aimer had tried to jump with his parachute but had been unable to leave the aircraft.

A second document is a list of items carried by the pilot, Faisal Nadif, at the time of his death:
-1— Syrian Army officer's ID card No.557, with the name Faisal Nadif, born in 1924, rank Lieutenant, unit 1st Aerial Squadron, physical description, brown eyes, black hair.
-2— Syrian Army identification card No.65 showing completion of an officer training course at the Army College, in the name of Faisal Nadif, born at Homs. [This would make him one of the first officers to pass through the Army College since Syrian independence. It is also interesting to note that Sergeant al-Abed who had flown this aircraft against Lionel Bloch also came from Homs].
-3— Photograph of Faisal Nadif himself.
-4— Photograph of a person named Barhan, sent to Nadif as a souvenir of Nadif's visit to Iraq on August 24, 1947.
5—A receipt for a jewellery store in Damascus dated Christmas Day, December 25, 1947.
-6— A marriage certificate dated March 24, 1948.
-7— A 'punishment letter' for 30 days' confinement for Lt Nadif for making an unauthorized request for leave, dated April 10, 1948.
-8— Syrian Air Force badge.
-9— Syrian Air Force insignia with one star.
-10— A personal diary.
-11— There was also a package (not described) in the hands of the second crew member.

[The photograph of Barhan may, in fact, indicate that Faisal Nadif was one of the Syrian pilots given initial flying training in Iraq.]

A third document, was a translation of a radio conversation between Syrian ground control and another Harvard which was in the air at the same time. This was monitored by the Israelis immediately after the shooting down of Nadif's aircraft:
"Hello, Suhail from Mahmoud, can you see Nadif? Over."
"No, I cannot see him, Mahmoud."
"OK, thank you."
"Hello, Nadif from Mahmoud, how do you read me? Over."
(No reply.)
"Hello, Fuad from Mahmoud. Come in to land, why are you climbing? Come down immediately, over." [Fuad may have been the radio operator-gunner in Nadif's aircraft.]
(No reply.)
"Hello, Nadif from Mahmoud, do you read me? Over."
(No reply.)
"Hello, Jamil from Mahmoud, do you read me? Can you see Nadif?"
(Unintelligble reply.)
"Thank you Jamil."

The fourth and most touching of all was Faisal Nadif's personal diary. This not only described a loving relationship with his new wife who was already pregnant and who seems to have been from a Syrian Christian family, but the sometimes tense relationship between Faisal, a Muslim, and his wife's family. Other entries in this remarkable diary shed light on the earliest days of the Syrian Air Force, its personnel, morale, organization and operations until a few days before Faisal was killed. These less personal extracts read as follows:

Jun 7: I took her [his young bride] back to al-Mezze [the main and as yet perhaps the only SAF air base near Damascus] and now we live with Lieutenant Mulhab.

Jun 8: We have rented a room in the same house where Lt Mulhab Eid lives. We bought a bed and my mother has sent us a blanket, a pillow and so on.

Jun 9: We have borrowed from the [officers'?] club a table, four chairs and—[unclear].

Jul 1: The first flying training course will finish on 4th July. I will be joining the 1st Fighter Squadron at Istabl [a grass airfield in the southern part of the Beqa'a valley in Lebanon] with a First Class, Category A Pass. Admaa, Marc and Darbal are in the transport squadron [believed to be equipped with the ex-Syrian Airways DC-3 Dakotas]. Shinawi, al-Adil and Abara are in the 2nd Fighter Squadron.

Jul 3: I am thinking of taking Alice to live at Mastora or in Istabl [the airfield in Lebanon] itself, but the pregnancy is making her feel very tired.

Jul 4: Flying training is now completed and we will start our military training before we join the squadrons.

Jul 5: We started our military training with Mato [a volunteer Yugoslav pilot-instructor] and began with the – [unclear] exercise.

Jul 6: Everything OK. In the evening we went to the cinema at six o'clock, the film lasted four hours. We got back at eleven o'clock.

Jul 7: Alice went into town to see her dress maker and returned to Sa'asat [the village south-west of the airfield at al-Mezze where Faisal and his wife were probably living] at six in the evening. I had an argument with the Yugoslav pilot Mato.

Jul 8: I left Alice at her mother's house at five in the afternoon. I left the airfield at 6.30 in the evening and went to – [unclear], we left Damascus at 10.30. We arrived at Istabl [in Lebanon] at 11.30.

Jul 9: We have left Damascus and have come to Istabl 'Lightning Two' [possibly the official name of this, the SAF's secret front-line airfield in southern Lebanon]. I have sent Alice to her parents. Sha'aban tells me that she has taken our belongings to her parents' home.

Jul 10: We took off from Istabl at 3.30 in the morning in aircraft number 208 [one of the Texans], Lt Othman's machine. Our planes had a combat with enemy Messerschmitts [Avia S.199s]. One of the enemy aircraft attacked plane number 206 [the same Texan in which Lt. Faisal Nadif would be shot down six days later] flown by Sergeant al-Abed and First Mechanic Muhi al-Din Wadi. The enemy aircraft [flown by Lionel Bloch] was shot down, but the one who shot him down was also injured and died of his wounds. The name of the one who did the shooting was Muhi al-Din, the First Mechanic who died. The aircraft was armed with three machine-guns; two 20mm guns and a temporarily mounted 0.50 machine-gun, and also bombing equipment. [It is worth noting that, despite describing this combat in considerable detail, Faisal made no mention of the Texan supposedly shot down by Maurice Mann in a second Avia, suggesting that the Texan in question actually made it back to base.]

Jul 12: Individual combat exercise today. I sent a letter to Lt Omar Tsafra.

Jul 14: I flew in aircraft serial number 203 [another Texan] to bomb Nj'amat al-Subach [which Israeli Intelligence translates as Ayelet Ha'Shakhar], but the bombs did not explode. Mato [the Yugoslav pilot; the being the first confirmation that non-Arab volunteer pilots actually flew combat missions with the SAF during the Palestine War] went in aircraft number 207 [another Texan] with Fadil Shatra to bomb Tuba.

Faisal Nadif was shot down and killed two days later.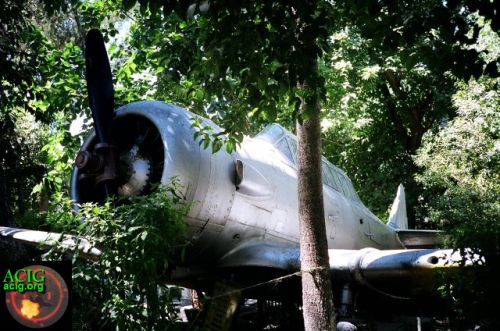 Sadly, today the sole surviving Syrian T-6 is well "hidden" between trees in the garden of the Military Museum in Damascus and devoid of any markings! (photo: Tom Cooper)