Contributed by Tom Cooper
Aug 26, 2007 at 08:54 AM
During a whole series of military coups - but also skirmishes with Chile - in the 1950s and 1960s, all three flying branches of the Argentinean military played a dominant role, flying dozens of combat sorties and even clashing in several air-to-air combats.
---
Argentina shares the history characterized by violence, chaos and military interventions with many other Latin American countries. Especially the Argentinean military always appeared to have been more occupied with political affairs than with external security – despite considerable threats for national security. Out of 16 presidents that ruled Argentina between 1930 and 1970, no less but eleven have been military officers.

The dominant political figure in the country for most of the times after the World War II used to be Huan Domingo Perón, former Colonel of the Argentinean Army and a member of the "United Officers' Group" (UOG). The UOG came to power in May 1943, through a coup against the civilian government of Ramón Castillo. Acting Under-Secretary of War in the junta of Gen. Pedro Ramírez, and then Secretary of Labour and Welfare, Perón pursued social policies aimed at empowering the increasing working class and expanding unions – especially the powerful General Confederation of Labour (CGT). Such measures made him very popular – very much to dislike of the next Argentinean dictator, Gen. Edelmiro Farrel, who rose to power in February 1944. Under Farrell, Perón rose to the post of Vice President and Secretary of War, but was forced into resignation and arrested by opponents within the armed forces, in October 1945.

The CGT reacted with mass demonstrations, on 17 October, and Perón was released. In February 1946, he won presidential elections and – supported by his second wife, the hugely popular Eva Duarte (better known as "Evita") – began his first term by confiscating British- and US-owned assets in Argentina and pushing hard to industrialize the country with help of money the country earned through supplying food to the Allies, during the World War II.

Perón won re-election, in 1951, but was meanwhile in conflict with the Roman Catholic Church and wide parts of military, as well as accused of establishing Argentina as safe heaven for Nazi war criminals. Argentina was neutral during the WWII, but earned immense profits from selling food and raw materials to the Great Britain – to a degree where the later was heavily in depth by the end of the war, and, starved of raw currency, had to offer to pay in manufactured goods.

The wealth gained in the 1940s was not put to proper use and, in the early 1950s, Argentina began to suffer from slowing economic growth as rampant corruption within state authorities destroyed the basis for normally functioning economy. Evita died of cancer, in 1952, resulting in her husband losing much popular support. This was to become the background of a series of rebellions by parts of the Army and Navy, in 1955.

The Latin American Arms Race
For most of the 1940s, 1950s, and 1960s, Argentina was the leading contender in an South American arms race, in which Brazil and Chile were the major rivals. The country was claiming about one million square miles of Antarctica and the British colony of the Falkland Islands (locally called "Islas Malvinas"). Besides, it had a long-standing dispute with Chile over possession of islands in the Beagle Channel, south of Tierra del Fuego.

Founded on 10 August 1912, as the Servicio Aeronautico del Ejercito, and changing to its present title on 4 January 1945, the Fuerza Aérea Argentina was always one of the most important South American air forces. The FAA's main fighter type in the mid-1940s was Curtiss 75 Hawk – a type that was obviously obsolete when compared with Republic P-47 Thunderbolt, delivered to a number of Latin American countries that joined the Allies in the war in Europe. Correspondingly, as soon as possible, the Argentineans launched an initiative to acquire jet fighters.

The choice was not very large: as of 1946 only a very few countries had a jet fighter in production. After the USA turned their request down, however, the Argentineans turned to Great Britain: because of the lack of money, the country was unable to pay off its large debt accumulated during the WWII. What the British could offer were manufactured products and surplus military equipment, however. Correspondingly, on 5 May 1947 a deal was struck Great Britain to supply a large number of aircraft to Argentina, including 50 ex-RAF and 50 newly-built Gloster Meteor F.Mk.4s (at a cost of GBP 32.800 each), 15 Avro Lancaster and 30 Avro Lincoln bombers, and many additional lighter planes. The announcement of this agreement caused uproar from the US Government, but London eventually bulldozed the deal through and the first Meteors – or "Glosters", as they became known while in service with FAA – began arriving already in July 1947.

The contract for acquisition of Meteors also called for the training of 12 Argentinean pilots. For this purpose the first six fighters earmarked for the FAA were originally retained at Moerton Valence. As most of FAA pilots had no experience with jets – or even modern piston-engined fighters – and at the time there was no two-seat version of Meteor, there were some problems with training. A direct result of this situation was the development of Meteor T.Mk.7 two-seat conversion trainer.

On 3 December 1947, the first FAA Gloster Meteor unit – Regimento 4 de Caza Interceptora – was formed at Tandil AB, which previously had to be improved and widened in order to accommodate jets. The second unit, Regimento 6 de Caza Interceptora, was established in 1949. Following airframes were assembled at the Instituto Aerotécnico (Aerotechnical Institute), in Cordoba, Argentina's third largest city. This institution had been founded in 1927: in the 1940s it was renamed into Fábrica Militar de Aviones (FMA) and put under FAA control. The FMA also established an assembly line for Rolls Royce W.2B/37 Derwent engines, which powered the Meteor.

Initially, the Argentineans experienced a great number of accidents with their Meteors: the aircraft was actually still in development, and many of its design features could actually not cope with its Derwent engines. One of the planes exploded after coming out of barrel roll during preparations to establish a new close circuit speed record, while several others crashed.

A number of conversion and upgrade projects was undertaken on Meteors. One was attempt at development of a two-seat conversion trainer variant: although fruitless, several of "Glosters" were equipped to carry a second seat in the cockpit, instead of communications equipment. A small number of Meteors was modified with strengthened cockpit and larger wings from Meteor F.Mk.III for various record-breaking attempts, while there was also a project for the PT-1 air-to-ground missile under testing in 1953.

In March 1949, the FAA's structure was adopted so that the Regiments were converted to Brigades (re-named into Brigada Aérea – "Air Brigades" – in 1951), resembling the Wings in the RAF. The Regimento 4 de Caza Interceptora became the VI Brigade and remained based at Tandil, while the Regimento 6 became the VII Brigada Aérea, and was based at Morón AB, in the outskirts of Buenos Aires.

Meanwhile, the other two branches of the Argentinean military were developing their flying services as well. The navy – which already operated two old battleships, five cruisers and 12 classic destroyers – began looking for an aircraft carrier, in the late 1940s and early 1950s. The plans for purchase of one of large US Essex-class type ships did not materialize, however – at least not in the times Perón was in power.

Argentinean Navy already operated a sizeable naval air arm – the Comando de la Aviación Naval Argentina (COAN), established already on 17 October 1919, which – between others – flew North American SNJ-4s (AT-6 Texan) and 12 Sikorsky S-55 (UH-19) helicopters, delivered in the early 1950s. The Army was similarly equipped, even if it founded its own air arm – the Comando de Aviación de Ejercito, centred at Campo de Mayo – only in 1959, foremost flying a batch of SNJ-4s and Cessnas for observation and training purposes.

In total, as of the early 1950s, Argentina had three air services that belonged to the best-equipped of all in Latin America. But, especially the FAA, it was not only striving to improve own capabilities with help of imported its capabilities, but also to obtain independence in design and production of fast jet fighters.

The German Connection
The great number of German scientists, technicians and pilots that immigrated to Argentina during and after 1945, and the wealth the country gained during the WWII, resulted in the golden years of the Argentinean aeronautic industry. The most prominent between German exiles was Dr. Kurt Tank, former chief engineer at Focke Wulf, and designer of such famous fighters as Fw.190 and Ta.190. He restarted his professional life at FMA, in 1947, where a great number of other highly experienced designers – including French Emile Dewoitine and Argentineans Ignacio San Marin and Norberto Morcchio – became active as well.

The first significant result of FMA's efforts was IA-27 Pulqui (Arrow), designed by Dewoitine as a light fighter with intake on the nose and cockpit right behind it, low wings, tri-cycle undercarriage and a large cockpit. The Pulqui was originally designed already before the WWII, but ist realization became possible only with availability of the Derwent engine, after the war. Consequently, soon after the first flight it became clear that while Dewoitine was an excellent designer of piston-engined fighters, his Pulqui was leading nowhere. Nevertheless, Argentina thus became only the sixth nation world-wide to fly an own jet fighter, after – in chronological order – German, Great Britain, USA, Soviet Union, and France!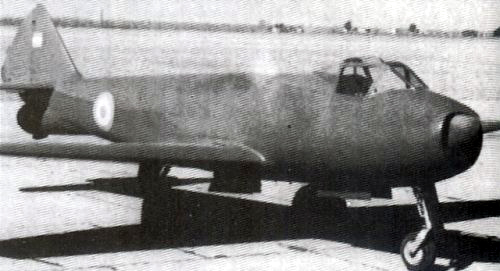 The FMA Pulqui was a result of the first Argentinean attempt to develop an own jet-powered fighter. The plane was powered by a single Rolls Royce Derwent 5 engine: it was 9.69m long and had a wing span of 11.25m. The first flight was on 9 August 1947, but with a top speed of only 720km/h at a time even several piston-engined fighters were faster, it had no future. (source unknown, via Tom Cooper)



Once the deliveries of Meteors began, and Kurt Tank was contracted, the FMA launched a new attempt to design a jet-powered fighter. Thus came the IA-33 Pulqui II into being, based on relatively extensive experience German desingers used to have with swept wing designs. Looking like a mix of La-15, MiG-15, and Saab J-29 Tunnan, with wings swept back at 40 degrees, a T-tail, and armed with four 20mm cannons mounted bellow the cockpit, the new fighter was a promising design, powered by a Rolls Royce Nene engine and capable of speeds of up to 1.050km/h. It made its first flight on 27 June 1950, and soon afterwards the Government ordered four additional prototypes.

Subsequent history of Pulqui II was marred with problems: Tank left Argentina and lack of funds slowed the further development down. When this was realized, in 1954, the Government ordered 35 Canadair Sabre F.Mk.6s, from Canada. This order, however, had to be cancelled for the lack of funds: Perón finally run his country into the ground economically and was unable to raise the necessary foreign exchange needed to finance such a purchase.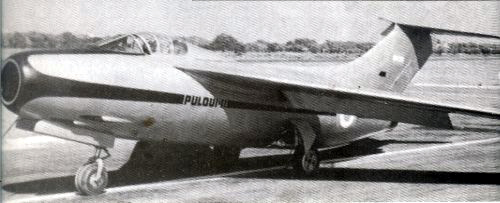 FMA IA.33 Pulqui II, designed by Dr. Kurt Tank, was a highly promissing design. With wings swept back at 40° and a wing span of 10.6m, it was fully in trend with contemporary fighters when first flown, on 27 June 1950. Lack of funding and subsequent unrest in Argentina led to massive postponnements in the project, which was eventually shelved, between 1958 and 1960. Nevertheless, at least one Pulqui II is known to have been captured by rebels in Cordoba, in September 1955, and used in combat against loyal troops. (source unknown, via Tom Cooper)



"Revolution" of 1955
On 16 June 1955, elements within the Argentinean Navy launched an uprising. Their directly attacked the Government House at Plaza de Mayo, in Buenos Aires, but failed. Nevertheless, they captured the airfields at Ezeiza, Moron, and Punta Indio. Several warships participated in the rebellion as well, foremost through bombardment of Government House – with little effect. Argentinean Navy aircraft then bombed the main square of Buenos Aires, where thousands gathered to express their support for Perón, killing – according to unconfirmed contemporary reports – at least 350 people, and wounding some 1.000 (Perón chose not to foment popular rage, and therefore complete records about this affair remain hard to find).

The mutiny within the Navy was followed by one within the Army, which sent a number of SNJs to attack loyal troops in the capital. Most of the FAA remained loyal and it scrambled several Meteors to intercept the rebels. One of these, serialled I-063, shot down the Texan "3-A-9" (0340), flown by officer Arnaldo Román, who parachuted to safety. During the same afternoon, the Army launched counterattacks against Punta Indio and other rebel strongholds, and the revolt collapsed.

After this uprising, the Argentinean Navy was deprived of ammunition and spare planes: Perón chose not to foment popular rage, however, and he left the Navy largely intact. Thus, the service could be used for mounting a new coup attempt, even if known to be against the Government as well as anti-popular. The USA and the UK were more than glad to explit this opportunity. The British, who at the time considered Argentina a kind of "agro-exporting semi-colony", and not especially pleased about the lack of will on the part of the Argentinean government to forget about their debts, were especially intolerant towards Perón. He was declared a "Nazi dictator", and Winston Churchill – still an influential member of the British Parliament in the early 1950s – became especially active agitating against him. In one instance Churchill stated that, "the fall of the tyrant Perón in Argentina is the greatest reparation of the pride of the Empire, as important for me as the victory in the Second World War, and the forces of the British Empire will not give him any truce, nor will they rest in the fight against him, be he alive or dead." The US government was foremost cooperating with the Argentinean clergy – through an agreement with the then Pope Pius 12th.

Although the Argentinean population was largely lethargic in regards of staging coups against their legitimate government, the British and Americans needed only three months to launch another attempt.



Flown by officer J. Adras, on 16 June 1955, the FAA Meteor F.Mk.4 "I-063" shot down the AT-6A flown by a rebel pilot, thus scoring the first ever air-to-air victory for the Argentinean air force. (Artwork by Tom Cooper)



The Second Strike
After having its ammunition stocks replenished semi-legaly by the British, the Navy led a second revolt, in September 1955. This time better contacts to the Air Force and Army were established, and the rebels – led by Brig.Gen. Dalmiro Felix Videla Belaguer – planned to take over cities and military bases outside Buenos Aires before attempting to attack the capital itself. At least as significant, they ascertained cooperation of numerous pilots from Brigada Aerea VI and VI, and could thus be sure of having at least some sort of air cover for their operations.

As first, in the early morning hours of 16 September 1955, they took over the naval bases at Rio Santiago and Puerto Belgrano, followed by Army garrisons of Arroyo Seco and Curuzu-Cuatiá. In Cordoba there was a fierce – but short – battle for the main police station, which fell after half-hour artillery bombardment. Simultaneously, the rebels secured the FMA works and Tandil AB, together with installations of the Fighter School, where they found a number of Meteor F.Mk.4 fighters under repair – as well as a Pulqui II prototype. Finally, Marines from Puerto Belgrano marched into the neighbouring grain port of Bahía.

The fighters captured at Tandil were immediately put to use. Early in the morning, two Meteors dropped leaflets over Cordoba, declaring that the city, "has been conquered again for God and the fatherland."

The reaction of the Government was relatively slow – and almost absurd. At 08:21hrs, a radio message was aired boasting that, "the subversive movement is under control". Shortly after, a rebel radio message from Puerto Belgrano answered that, "this is not a revolt of two or four hours. We will carry on as long as necessary. We ask the Argentine people to join us in our struggle for truth, morality and liberty." Only now did Perón put his troops on alert. A state of emergency was declared and the Army put under command of Gen. Franklin Lucero. The Rio Santiago naval base was put under a siege and VII Brigada Aérea FAA alerted for possible action.

Fighting on 16 September mainly concentrated on Rio Santiago. This base was pounded by four FAA Meteors and then put under artillery fire. Outnumbered at least two to one, but supported by two destroyers anchored off the capital, the sailors and Marines in Rio Santiago finally gave up, late in the evening. During the air strikes, both destroyers were damaged by cannon fire and unguided rockets, but also a FAA Meteor was shot down by anti-aircraft fire.

As next, Gen. Lucero turned to Cordoba. Deploying some 15.000 troops, supported by tanks and artillery, he was certain that the uprising would be put down within the shortest period of time. However, as the first brigade of 2.000 troops arrived at the local train station, it was hit by Meteors flown by rebel pilots, and suffered considerable losses. Precious time was lost until the unit was reorganized and back under control of loyal officers.

Increasing the stake, Belaguer began recruiting locals to support his units, while the rebel-flown Meteors also strafed the nearby Pajas Blancas airport, where several FAA Lincolns were damaged on the ground. Once again, the "Glosters" of the VII Brigada Aérea were sent to hit back, flying numerous attacks on rebel strongholds. The rebels would not give up, however: the staunchly Roman Catholic Cordoba – the city often described as one of "monks and churches" – was a stronghold of anti-Perónist opposition. Hundreds of civilians joined the rebels, fighting on their side against advancing Army units. The city remained in their hands, as well as Puerto Belgrano and Bahia Blanca. This was extremely dangerous for Perón then the longer the rebels held, the more likely it was that additional military commanders would switch over to their side.

The second day of the uprising began with Government radio messages that, "absolute tranquillity reigns throughout the country" – except at Cordoba and Puerto Belgrano. The situation of the rebels was improving from hour to hour as in San Luis the units of the 2nd Army mutinied against the Government. Meanwhile, the River Plate fleet – part of the Navy operating along the Rio de la Plata – gathered near the Urugayan shores, and Admiral Isaac Royas, commander of the fleet, proclaimed a blockade of the capital. By the evening of 17 September, Royas gathered a fleet of 21 warships in the area, including two obsolete battleships and two US-built cruisers – ARA Nueve de Julio (ex-USS Boise) and ARA General Belgrano (ex-ARA Diez y siete de octubre, ex-USS Phoenix) – threatening to bombard Buenos Aires. Correspondingly, a blackout was enforced, and telephone connections cut, causing unrest and even panic within the population. In effect, the Government spent most of this day doing nothing: this was to result in its eventual demise.

Due to there being two sides that used Meteors now, the respective FAA units introduced makeshift insignia in order to enable their pilots to recognize each other. Units loyal to Perón applied a large "P" on their aircraft, over the "V"; on the other side, the rebels painted a cross on a "V" with the legend "Cristo vence" (Christ wins) on the nose and engine cowlings of their Meteors.



During the September 1955 "revolution", not only the FAA but also the rebels put Meteors in use. Because of this both sides were forced to apply additional recognition markings on their planes. The rebels used a large "V", adorned by a cross and a legend "Cristo vence" (Christ wins). Very few good photographs showing this insignia are available and most were taken during the "Victory Parade", held at Cordoba after the coup. For this reason it remains unclear in which colour were these markings applied. Many of their details remain unknown as well. From available photographs, however, they were most likely applied in yellow or light blue. (Artwork by Tom Cooper)



Decisive Day
On the morning of 18 September, Gen. Lucero deployed another group of 15.000 troops towards General Belgrano, and Royas – short of large ground units – reacted in the only way he could: by activating the COAN. Deploying all aircraft at their disposal at NAS Commandante Espora – including Consolidated PBY-5 Catalinas, SNJ-4s, AT-11s and even old Grumman J2F-5 Ducks – the rebels hit back against the advancing Army tanks and troops. A J2F-5 was shot down while attacking a tank column, and the later also came under vicious artillery fire from rebel-controlled warships while approaching the coast. The rebels at Tandil and Cordoba were active as well, attempting to deploy their Meteors into attack again. The I-079, however, was filled with wrong fuel – petrol instead of kerosene – and crashed in flames shortly after take off from FMA's airfield, killing the pilot, Lt. Morandini.

The VII Brigada Aérea deployed a number of Meteors into attack sorties in response, but in vain. As an increasing number of loyal units switched their loyalty, the Government began losing control of the situation. Without ability to recover either Cordoba or General Belgrano, and with most of the military turning against him, Perón was forced into exile. He fled to Paraguay and a military junta was established in Buenos Aires.

The fall of Perón had not only immense repercussions for the whole Argentinean nation and society, but also the local aircraft industry. The Pulqui II was in the middle of testing when the military junta came to power and most of the Kurt Tank's team was forced to leave Argentina (Tank himself went to India, where he continued to work for Hindustan Aeronautics Ltd. – HAL, and later developed the HF-24 Marut supersonic fighter). The sprawling work on development of this and other project was completely stopped, and Argentina again turned to the USA and Great Britain for satisfying its defence needs.



COAN also operated a small number of PBY-5 Catalinas during the 1950s and 1960s, and these were involved not only in the fighting during the coup in 1955, but also in the large search operation for an unidentified submarine that was detected inside the Argentinean territorial waters, on 30 January 1960. Any additional details about their service in Argentina would be most welcome! (Tom Cooper collection)



COAN's Best Times
With Perón out of their way, the USA and the UK were more than glad to normalize relations with Argentina. This was not always easy, then the new junta – strongly influenced by the Navy – had demands that were not always easy to satisfy, including the acquisition of an aircraft carrier. The permission to do so was granted only after lengthy negotiations, in 1958: with the USA still turning down requests for ships of USS Essex-class, the vessel selected instead was the Colossus-class carrier HMS Warrior. Originally laid down in 1942, she was completed in 1944 and served with the Royal Canadian Navy on loan for a short period of time, in the late 1940s. In 1948, she was used for flexible-deck trials and, in 1954, upgraded with a partial angled deck. Warrior was put up for sale in March 1958, and purchased by Argentina only three months later, to be renamed ARA Independencia.

The COAN began air operations from Independencia in June 1959 – even before the vessel was officially commissioned. The embarked air group consisted of four Vought F4U-5N and six F4U-5NL Corsairs, purchased in 1956, and SNJ-5Cs, some 30 of which were purchased in 1958, and all of which were carrier-compatible.



Photographs of COAN F4U Corsairs in operations from ARA Independencia are relatively rare. This one shows an F4U-5 of the 2a Escuadrilla Aeronaval de Attaque on landing on board the carrier, in the early 1960s. COAN Corsairs were serialled 2-A-201 thru 2-A-222 at the time. Argentinean Corsairs saw some combat service during different coups in the country. Despite reports that they also took part in skirmishes with Chileans, in 1965, and that one was shot down, there was no fighting between Argentina and Chile ever, and no COAN Corsairs were lost to Chilean ground fire. (Tom Cooper collection)



In the early 1960s, after additional acquisitions of equipment and aircraft, the COAN was reorganized once again. The Corsairs – the fleet of which was reinforced by eight additional F4U-5 and four F4U-5NLs, delivered in 1958 – entered service with Escuadra Aeronaval 2 (re-designated as 2a Escuadrilla Aeronaval de Ataque), based together with the rest of the naval aviation at NAS Comandante Espora, near Buenos Aires. In 1960, six Grumman S2F-1 (S-2A) Trackers were ordered in the USA. The first of these arrived in 1962, entering service with Escuadrilla Aeronaval Antisubmarina, established in the same year at NAS Punta Indio.

Corsairs, Trackers and SNJs routinely deployed aboard ARA Independencia. Originally designed as night-fighters, Corsairs were mainly employed for ground attack; the COAN planned to replace them in the interceptor role by a small batch of Grumman F9F-2 Panthers (later reinforced by several Grumman F9F-8T/TF-9J Cougar two-seaters), delivered in 1958. These, however, never deployed aboard the ARA Independencia (except during their delivery voyage, on which the Panthers and Cougars were embarked for transport from the USA to Argentina) then the ship proved unsuitable for operating them: Argentinean Panthers did only very few (perhaps only one) landing on board for test purposes. Instead, in 1965, the Corsairs were replaced by 64 Sud T-28P Fennec (a French adaptation of the North American T-28A Trojan), from French air force, which became surplus after the end of the Algerian War. The first 44 Fennecs were transferred to Argentina in 1966, and the remaining 20 in the following year.

Reinforced and bolstered by such acquisitions, the Argentinean Navy and COAN were to play a prominent role in a number of emergencies during the 1960s.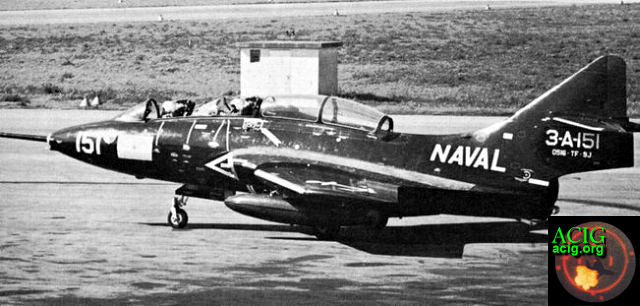 A rare photograph of COAN Grumman TF-9J Cougar two-seat conversion trainer. Note the unusual position of national markings, applied in a similar manner like on the F9F-2 Panther above. (Tom Cooper collection)

T-28S Fennec 0567/3-A-215 of the 1° Escuadrilla de Ataque, as seen in 1969. Camouflaged in grey ("Gris Nevado", FS36440) over and matt white (FS37875) under, this aircraft otherwise wears the insignia of the Argentinean naval avaiation on the rear fuselage, as well as national colours on the fin. The unit insignia was usually worn bellow the rear cockpit as well. The 1° Escuadrilla Aeronaval de Ataque flew eight F9F Panthers and two TF-9 Cougars from NAS Comandante Espora unitl 1968, when it was re-equipped with Fennecs and moved to NAS Ushuaia. Despite immense logistical and problems with weather when operating from this southern-most airfield in Argentina, the unit proved itself during several periods of tensions with Chile. (Artwork by Tom Cooper)



New Coups and Disputes with Chile
The acquisition of Trackers from the USA came not out of nothing. On 30 January 1960, an unidentified submarine was detected by Argentinean naval vessels in the Golfo Nuevo. The COAN PBM-5s, backed by FAA Lincoln bombers and some USN reconnaissance aircraft, flew numerous sorties in attempt to track down the intruder. The search went on for days and weeks without an end, but had to be called off in late February. Before it was so far, a USN R6D collided with a DC-3, killing all on board the two aircraft.

This vivid cooperation between the junta in Buenos Aires and the USA was confirmed in the same year through Pentagon's permission Argentina to acquire 28 surplus North American F-86F Sabre fighter-bombers. The Sabres replaced Meteors in the Brigada Aérea VI as main interceptors in the FAA, relegating these to fighter-bomber duties – a task for which the later were already armed for, having ability to carry launch rails for T-10 unguided rockets. Correspondingly, the surviving Meteors were re-serialled: the prefix of their serials was changed from "I" to "C" (for Caza). Just two years later, also most survivors were painted in a new camouflage pattern. Interestingly, the FMA later adapted F-86-drop tanks for FAA Meteors.

The Meteor's ability to fly fighter-bomber missions was illustrated during the next rebellion within the Argentinean military, in 1962. On 21 September, there was a mutiny of cadets in the Escuela de Suboficiales del Ejército (Army Sub-Officers Academy), in Buenos Aires. The rebels entrenched at the Parque Chacabuco but were attacked by Meteors, using T-10 rockets, and quickly surrendered.

The next "revolution" in Argentina erupted on 2 April 1963, and was this time fomented from within the Navy. In their first strike, the rebels occupied the radio station in Buenos Aires and took control of NAS Punta Indio and Commandante Espora. With a number of PBY-5s and F4U-5 Corsairs in their hands, the rebels became active, flying armed reconnaissance and dropping leaflets over Buenos Aires.

Once again, the FAA and most of the Army remained loyal, and the radio station was attacked by two MS.760s, while Meteors conducted combat air patrols in attempt to keep CANA aircraft outside the capital. By the afternoon, the situation became culminated as the Army – supported by tanks of the Regimiento de Caballería de Tanques 8 – advanced on rebel strongholds. CANA SNJ-4s and F9F-2 Panthers attacked one of columns, destroying up to a dozen of M4 Sherman tanks and causing extensive casualties, albeit at a price of one SNJ and a Panther shot down. While this Army counterattack was eventually stopped by air power alone, another column advanced on Punta Indio, reaching the base largely without problems. On the morning of 3 April, however, it was attacked by a number of CANA SNJs and F4U-5s, which again caused losses. Argentinean Army anti-aircraft fire was heavy, however, and the F4U Corsair 0384/3-A-211 is known to have been shot down, while several other aircraft have suffered combat damage as well. In response, at 08:00hrs, the FAA launched a fierce strike against NAS Punta Indio and Commandante Espora. Flown by four F-86Fs, four Meteors, four M.760s, and two Lincolns, this attack left up to a dozen of CANA aircraft destroyed on the ground. Details about exact losses, however, remain unknown.

By now it became clear to the rebels that they could not win. Most of them fled, some on board CANA aircraft to Urugay, and the uprising was over by 21:45hrs.



In 1958 a small batch of Grumman F9F-2 Panthers was purchased for COAN, with intention to use them from the Argentinean first aircraft carrier – ARA Independencia. Except for the delivery trip from the USA to Argentina and one or two tests, however, these were never embarked aboard the carrier, then the ship proved unable to operate them. Together with F4U-5s, COAN Panthers flew some "operational" sorties during the coup attempt, on 2/3 April 1963, when the parts of the Argentinean Navy mutinied against the government, and then clashed with loyal Army units. Corsairs and Panthers flew several strikes, destroying a number of Army tanks and other vehicles, but in turn at least on Panther was shot down by the fire from the ground. Additional COAN aircraft were destroyed in a strike flown by Fuerza Aérea Argentina (Argentinean Air Force) F-86s and Meteors against the NAS Punta Indio, on 3 April 1963. (Tom Cooper collection)



As if inner-political differences between different Argentinean military commands were not sufficient, the successive juntas also had a dispute with Chile over the situation in the Beagle Channel. In 1965, the situation heated up to a degree where both air forces – and the Argentinean COAN – became involved. The later is known to have deployed a squadron of F4U-5s to Rio Gallegos, from where these flew armed reconnaissance patrols.

Very few reports about the following skirmishes surfaced, but it is known that a COAN Corsair was lost on 9 November 1965, under unknown circumstances. The carrier ARA Independencia appears not to have deployed in the area: the ship was already in poor condition after years of heavy service. On the contrary, the surviving Corsairs were retired later in the same year, and the Navy was soon on a search not only for a new naval fighter – but also a new aircraft carrier: ARA Independencia was put into reserve by 1968 and mothballed, waiting for a replacement.



A sizeable part of COAN's Corsair-fleet was painted in Gull Grey over, and white under, like the example here. When F4U-5 Corsairs were allocated to the Escuadra Aeronaval 3 and assigned to 2a Escuadrilla Aeronaval de Ataque, in the early 1960s, they were assigned serials 3-A-201 thru 3-A-222. Between 1962 and 1965, they built the main part of the air group embarked on board the aircraft carrier ARA Independencia (V-1). Shortly after a period of tensions with Chile, in December 1965, the 2a Escuadrilla was disbanded, and most of its Corsairs scrapped. (Artwork by Tom Cooper)
---


Sources & Bibliography

- "AIR WARS AND AIRCRAFT; A Detailed Record of Air Combat, 1945 to the Present", by Victor Flintham, Arms and Armour Press, 1989 (ISBN: 0-85368-779-X)

- "INTO THE JET AGE; the Gloster Meteor in Argentina", article by Juan Carlos Cicalesi, César del Gaizo & Santiago Rivas, AirEnthusiast magazine, volume 104 (March/April 2003)

- METEOR, by Bryan Philpott, Patrick Stephens Ltd., 1986 (ISBN: 0-85059-734-X)

- "F-86; the Operational Record", by Robert Jackson, Airlife Publishing Ltd., 1994 (ISBN: 1-85310-402-7)

- THE PENGUIN ENCYCLOPEDIA OF MODERN WARFARE, by Kenneth Macksey & William Woodhouse, Penguin Group, 1991 (ISBN: 0-670-82698-7)

- WORLD'S AIR FORCES, by John Pacco, JP Publications, 1992 (ISBN: 90-801136-1-1)

- AEROSPACE ENCYCLOPEDIA OF WORLD AIR FORCES, edited by David Willis, Aerospace Publishing, 1999 (ISBN: 1-86184-045-4)


Last Updated ( Aug 26, 2007 at 08:56 AM )