| | | | |
| --- | --- | --- | --- |
| Peru vs. Ecuador; Alto-Cenepa War, 1995 | | | |
Contributed by Tom Cooper, with additional details from Esteban Rivera
Aug 26, 2007 at 10:36 AM
Detailed history of the fierce air war between Peru and Ecuador in the jungles south of the Cordillera del Condor mountains, with additional information from the ACIG.org forum.
---
The history of border conflicts between Ecuador and Peru began in 1840, but is based on the imprecise borders drawn by Spanish authorities during colonization, as well as efforts frustrated by the politics of the subsequent independent governments and the local terrain.

The modern period of conflicts between Peru and Ecuador began in 1941, when a series of skirmishes along the border developed into a full-scale war. Deploying some 15.000 troops, the Peruvians overwhelmed about 3.000 Ecuadorians occupying the province of El Oro, and then a cease-fire was quickly brokered by Argentina, Brazil, Chile and the United States. After complicated negotiations Peru and Ecuador reached an agreement about the frontier line, and signed the "Protocolo de Rio" (de Janeiro), a pace treaty, in 1942. The Peruvian forces were subsequently withdrawn.

Following the cease-fire, and in cooperation with Argentina, Brazil, Chile, and the United States, Peru and Ecuador began demarcating the mutual border. This proved an exceptionally difficult task foremost because a good part of the border runs through thick jungle and was not only very distant from Ecuador's and Peru's major settlements, but also in areas without any kind of land communications. The US Air Force lend the hand, conducting a major air survey operation to map the whole frontier zone, then before that time the available maps were accurate for only specific parts of the border areas. Otherwise, the Protocolo had established the frontier line along the divortium aquarium of the rivers Santiago and Zamora, which was thought to be the Cordillera del Condor. The USAF aerial survey discovered a new river, however, Cenepa, which run from that mountain range to the Marañón River in the north to south direction. This situation was submitted to the Brazilian mediator, Braz Diaz de Aquiar, who in 1945 established the Cenepa River to be in Peruvian territory and the line of frontier to run along the Cordillera del Condor.

Ecuador did not accept that decision and declared the Protocolo to be inapplicable, in 1950, stopping the demarcation effort. Furthermore, Ecuadorians claimed that the treaty had been signed before Peruvian troops withdrew from Ecuador. While this claim was true, it was also truth that the Ecuadorian parliament ratified the Protocolo well after the Peruvian withdrawal.

Thus the border dispute remained unsolved because of dispute regarding demarcation of some 78km in the Cordillera del Condor, despite the fact that most of the 1.600km long border had already been fixed. Correspondingly, both countries began establishing a number of military outposts in the area in order to protect their interests, Ecuador on the heights of the Cordillera del Condor, and Peru in the Cenepa Valley. The position and possession of these outposts was to become a reason for two wars between Ecuador and Peru so far.


---


The Most Powerful Air Force in Latin America
Peru used to have one of the most modern and best equipped air forces in Latin America. A military air corps was established already in 1919, using a mixture of British and French aircraft. In 1929, the Cuerpo de Aeronautica del Peru (CAP) was formed, its title changing in 1950 to Fuerza Aérea del Peru (FAP). During the war with Ecuador in 1941, the CAP Escuadrón de Caza 411 flew North American NA.50 Little Bull fighters, while the 11° Escuadrón de Bombardero was equipped with Caproni 310 Libeccio bombers. Both types were used to support ground forces. The service converted to Republic P-47 Thunderbolts, North American B-25 Mitchells and Lockheed PV-2 Harpoons in the 1940s, before launching a modernisation campaign, in 1955, which resulted in acquisition of first jet aircraft.

One of the first orders for new aircraft included 12 each of North American F-86F Sabres and Lockheed F-80C Shooting Stars, followed by eight Douglas B-26 Invaders as replacements for Thunderbolts and Mitchells, respectively. Swiftly delivered from the USA, these fighters entered service with two squadrons of Grupo 12, then based at Las Palmas, while Invaders were assigned to the 21° Escuadrón de Bombardero Ligero (21st Light Bomber Squadron). Interestingly, the FAP kept its surviving B-25s in service with the 23° Escuadron for a while after delivery of B-26s, the number of which was eventually increased to 18.

Simultaneously with Sabres, Peru also ordered 16 ex-RAF Hunter F.Mk.52s. The sale of Hunters to Peru was considered a major triumph in the UK, as at the time the USA were not only more than eager to provide Sabres to any South American country, but also had surplus – and thus cheap – airframes left after the Korean War, as well as a virtual monopoly on sales of heavy military equipment in the region. Deliveries of Hunters began in 1956, and the type entered service with the Escuadrón de Caza 14, at Talara. Peru later ordered an additional Hunter T.Mk.62 two-seater: together with Sabres, the type was to remain the mainstay of the FAP fighter-bomber force until the mid-1970s.

Simultaneously with Hunters, the FAP ordered eight English Electric Canberra B(I).Mk.8s, delivered between May 1956 and March 1957. These entered service with Grupo de Bombarde 21, 22° Escuadrón de Bombardero, based at Chiclayo, the crews of which were especially trained in counterinsurgency warfare. In 1959, the FAP issued its second order for one new-build B(I.).Mk.8, and this plane was delivered in the following year. With this, the FAP had a group of three bomber units, the 21° Escuadrón flying B-26s, 22° Canberras, and 23° flew B-25s.

The next modernisation phase of FAP was launched in 1965, with the third order for Canberras issued to what was meanwhile the British Aircraft Corporation (BAC), in order to equip a second squadron in Grupo 21. This included eight refurbished ex-RAF Canberras (including six to B.Mk.2 and two to T.Mk.4 standard). The two trainers were delivered already in 1966, while the remaining aircraft followed in 1967. The BAC apparently later supplied updating kits for both variants, which gave the aircraft new designations: B.Mk.2s became B.Mk.72s, and the trainers became T.Mk.74s. Between 1969 and 1981 only two Canberras were lost in peace-time incidents. The two Canberra-squadrons mainly operated from Chiclayo and Limatomb.

Finally, in 1968, the FAP issued a fourth order for Canberras, for the supply of six ex-RAF B.Mk.2s, refurbished and modified to B(I).Mk.56 standard. The FAP issued two additional orders for Canberras in the subsequent years, but these were not as significant as previous. The fifth order was issued in 1969, and included a single B(I).Mk.68; and the sixth order was again for a single aircraft, this time another T.Mk.74.

The FAP Canberras were reasonably well armed for their time. They could even carry the Nord air-to-air missiles mounted on enlarged underwing pylons, as well as Microcell multi-rocket pods, twin 7.62mm gun pods and pylon-mounted 245kg or 455kg bombs – all of this in addition to the normal internal loads.

Mirages and Sukhois
The background for the modern-day FAP was laid in 1968, when the first 16 Dassault Mirage 5s were purchased from France, in order to replace the – meanwhile – obsolete fighters of the first generation. The FAP was thus the first South American air force, and only the second Latin American air force, to fly supersonic fighters – right after Cuba.

The Mirages were delivered to Peru between May 1968 and December 1969. This first batch consisted of 14 single-seat Mirage 5Ps and two two-seat Mirage 5DP conversion trainers. In 1974 eight additional Mirage 5Ps were purchased followed, two years later, by another Mirage 5DP. All entered service with the Grupo 13, based at Chiclayo AB.



The first supersonic-fighter in Southern America: this Mirage 5P, serialled 183, belonged to the second batch of eight aircraft supplied in 1974. (Artwork by Tom Cooper)



Almost simultaneously with arrival of the first Mirages, Peru ascertained deliveries of Cessna T-37s and A-37Bs from the USA. First to arrive were 15 new-built T-37Bs, followed by five ex-USAF T-37Bs and 12 T-37Cs. All these aircraft entered service with the Escadrón 512 of the Grupo 51, based at Las Palmas, which was a part of the Escuela de Oficiales (Officer-School). Between 1975 and 1977, the FAP acquired also 36 Cessna A-37Bs, which replaced the eight tired B-26s (of which five were considered airworthy at the time) and entered service with two squadrons of the Grupo 7, based at Piura. Although proving an excellent training and gunnery platform, the type reportedly suffered considerable attrition and by 1995 barely 24 A-37Bs remained intact, of which only five were fully mission capable.

In the following years Peru attempted to order even more Mirages, but apparently without any success. In fact, the refusal of the West to supply additional modern fighters – then the remaining F-86s still needed to be replaced, but the USA were exercising pressure on potential suppliers not to sell any modern aircraft to Latin America – caused Peru to finally establish contacts to the USSR.

In 1974, Lima and Moscow signed an agreement for delivery of 32 Sukhoi Su-20M single-seaters and two Su-22U two-seaters, worth $250 million and designated Su-22 in the version that was to be supplied to Peru. The first of these started arriving in June 1977 and entered service with the 111th Squadron. Three years later, in 1980, 16 additional Su-22Ms (actually Su-22M-3Ks) were purchased as well for the 411th Squadron based at La Joya AB. Although equipped with few relatively modern items – like Fon and Klen-PS laser rangefinders – the Peruvian Su-22s and Su-22Ms otherwise had very basic avionic systems. Nevertheless, US-based reports about their IFF-transponders being incompatible with those of S-125 Neva (ASCC-Code SA-3 Goa) SAMs supplied to Peru in the same period of time are wrong: the Peruvian SA-3s had IFF-interrogation equipment modified to interrogate Su-22's transponders, and even some of FAP's Western-made aircraft were equipped with compatible IFF-transponders, in order to permit them operations in areas defended by these SAMs. The Sukhois were also armed with R-3S and R-13M air-to-air missiles (ASCC-Code AA-2 Atoll): a type of weapon that at the time was rather a rarity in South America.

Aside from this, the FAP Su-22s could haul immense amounts of ordnance. Their major problem was the range, considered insufficient for Peruvian needs. For this purpose the FAP attempted – with French support – to mount bolt-on in-flight refuelling (IFR) probes on some of its Sukhois, with target of increasing their range and endurance by a margin. Eventually, despite some success, because of the lack of funding, this measure was only undertaken in evaluation and was not implemented on the whole fleet.

During the late 1970s the FAP worked intensively on increasing the fire-power of its Mirages, and there were serious plane to upgrade them to 5P-4 standard, essentially similar to Pakistani Mirage 5P-3s, that would see the aircraft being equipped with new HUD, INS, chaff & flare dispensers, RWRs, and canards. According to some sources, the few of the upgraded FAP Mirages were also to receive the Cyrano or Agave radar and become compatible with the Aérospatiale AM.39 Exocet anti-ship missiles. However, most elements of this plan – including the acquisition of Matra R.550 Magic Mk.I and Mk.II air-to-air missiles – were given up for cost reasons. Consequently, Peru was not to get any Magics until the arrival of its first Dassault Mirage 2000Ps, in 1986. Therefore, the FAP limited itself only to marginal upgrades on 15 Mirage 5Ps, including the addition of the advanced Litton INS, Thomson-CSF HUD, and a CSR laser-rangefinder under the nose.

All the upgraded Mirages have also got bolt-on IFR-probes of French origin, as well as RWRs and advanced ECM-systems. Ten non-upgraded Mirage 5Ps were sold to Argentina, in 1982, as a sign of Peruvian solidarity with the country that was at war with the UK at the time. The money saved through the limited upgrade, and then the sale of ten Mirage 5s to Argentina, in 1982, was subsequently used for acquisition of much more advanced Mirage 2000Ps.

In the meantime, the cooperation with France remained good during the whole 1980s. Consequently, instead of MiG-23s offered by the USSR at a much lower price, in 1985, Peru ordered 12 Dassault Mirage 2000Ps. With deliveries of the new type, the FAP was in possession of a good pendant to Venezuelan General Dynamics F-16s, supplied from the USA in the meantime.

Although turning down the Soviet offer for MiG-23s, in the 1980s the Peruvians had good connections to several communist countries, including Cuba, with which there was some exchange of pilots and officers. In part through such connections Peru was to purchase 12 late-production Mi-25s (some equipped with exhaust filters), in 1983, as well as Mi-8s and Mi-17s from the USSR. In 1990 these were reinforced by at least seven Mi-25s and a number of Mi-8s and Mi-17s acquired from Nicaragua, which needed no large air force after the end of the Contra War. Up to 15 Mi-25s remained operational by 1995.

Aside from maintaining this considerable fleet of fast and modern fighter jets and helicopters, the FAP continued reinforcing its Canberra fleet at each and every opportunity also in the 1990s – especially by purchasing a number of additional airframes from South Africa. Nevertheless, despite considerable theoretical capabilities of the Canberra's airframe, due to the meanwhile very poor economic situation, the FAP Was unable to make full use of them by – for example – modifying Canberras into stand-off jammers, or equipping them with guided weapons. Instead, the venerable aircraft continued soldiering as conventional bombers, target tugs or reconnaissance platforms.



FAP Mirage 5P-4s are known to have participated in the Condor War as well. Very little is known about the nature of their operations, but it is said that they flew around a dozen of air-to-ground sorties.(Artwork by Tom Cooper)



Problems with Economy
Through the 1970s and the first part of the 1980s, Peru had been able to maintain a quite high level of arms imports – for Latin-American standards. These acquisitions, however, relayed heavily on foreign loans and these resulted in a considerable foreign debt. By 1988, Peruvian economy plunged into a chaos, resulting in an annual inflation rate of over 2000%.

The poor economic situation had negative effects on the readiness of the military, and defence spending had to be cut to a minimum. Acquisition and maintenance of modern aircraft have had their cost: by 1995 a considerable number of FAP fighters was stored, and new acquisitions were suspended – a process that began in 1985, when the order for 26 Mirage 2000Ps was reduced to just 12 airframes, and the planned modernization of the cruiser Almirante Grau (ex Dutch De Ruyter) was replaced by a more modest scheme. Operational levels further decreased as resources were directed to forces fighting counterinsurgency war against the terrorist group Sendero Luminoso. For this purpose, Peru mainly deployed light infantry battalions with helicopter support, but Canberras are known to have been used to fly some strikes time and again as well.

For such reasons, the FAP never acquired Matra Super 530D medium-range air-to-air missiles for its Mirage 2000Ps: instead, these were armed only with Matra R.550 Magic Mk.Is. It was not before 1998 – well after the Condor War – that Peru acquired a small batch of Mk.IIs.

Under described circumstances, when hostilities between Ecuador and Peru erupted, in January 1995, Peruvian armed forces – and the FAP particularly – were in a dire situation and not ready. As of January 1995, the FAP had only few operational aircraft, including three Mirage 2000Ps, seven Su-22s and Su-22Ms, and four Canberra bombers, eight A-37Bs and five Mi-25s. The situation with air defence systems was not much better: none of two P-12 radars, only two out of five P-11s, only one of two P-14s, two out of six P-15s, one of three P-37s and two P-19 radars were operational. This meant that only eight out of a total of 20 radar stations were in function: less than 45 percent.

Peruvian SAMs of Soviet origins were in no better condition: only two of six SA-3-batteries were in working condition, but only some 20% of 116 SA-3 rounds. Also, out of 125 SA-7 and 110 SA-16 MANPADs at hand, barely ten SA-7s and around 90 SA-16s were still in useful condition. Of other modern air defence assets, the Peruvians possessed a total of 106 ZSU-23-2s and 18 ZU-23 anti-aircraft guns, but these could be deployed in the Cordillera del Condor only with the help of helicopters, which was a gruelling and tiresome task. Taking into account this situation it is not hard to figure out why the FAP could not effectively wrestle air superiority during the following war.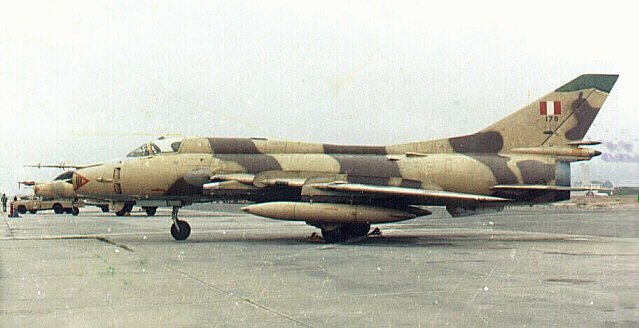 FAP Su-22M-3Ks (or Su-22Ms as officially designed) were very active during the short war with Ecuador, flying a total of 40 attack sorties. However, they proved insufficiently equipped to match better-armed and more nimble interceptors, like Mirage F.1s of the Ecuadorian Air Force. (Tom Cooper collection)



Fuerza Aérea Ecuatoriana
The original Cuerpo de Aviadores Militares was established in 1920, when the main air station was established at Quito, with some Ecuadorian pilots being sent to Italy to complete their training so that they could take over their Italian- and US-supplied aircraft. A flying school and a factory for aircraft repairs were established in Guayaquil few years later, and in 1935, the Fuerza Aérea Ecuatoriana (FAE) was officially established. Three years later it comprised some 12 aircraft, half as trainers, making up one aviation company and the flying school. The US influence in training and equipment became prominent thereafter, and by the early 1950s the FAE operated a squadron of Republic P-47 Thunderbolts, a transport unit flying Douglas C-47s, and the training command.

The modern-day FAE developed in the 1950s, when 12 Gloster Meteor FR.Mk.9s were acquired, followed by six BAC Canberra B.Mk.6s. All 18 aircraft were delivered between 1954 and 1957, the later entering service with the Escuadrón de Bombardeo 2123, based at Quito. Simultaneously also some 12 Lockheed F-80Gs were purchased. Subsequently, the FAE relied ever heavier on European aircraft as the condition and numbers of older US-supplied fighters deteriorated and Washington refused to supply replacements.

In the early 1970s, Ecuadorians were closely following the developments in Peru and felt compelled to develop a corresponding capability as well. Ecuador needed some time to develop capability to acquire and operate modern fighter jets and therefore mainly operated slower – but not less efficient light strikers. In 1972, the FAE ordered its first eight BAC Strikemaster Mk.89s, followed by six additional Mk.89As, in 1976. Due to heavy attrition (up to six were lost by mid-1980s), additional Strikemaster Mk.90s were purchased in 1987 and 1988, these representing the last of the new aircraft produced in the UK and put into store at the close of production by BAe, pending future orders.

The small fleet of Strikemasters was already in April 1976 reinforced by the first of 12 Cessna A-37Bs. In 1982, after three examples were lost in collision with a mountain, the government entered lengthy negotiations with USA to acquire additional examples. Instead, the USA delivered 25 refurbished Lockheed AT-33AS, from mid-1986. Ecuadorians were stubborn, however, finally resulting in deliveries of few additional (ex-ANG) OA-37Bs, followed by six additional Dragonflies, in 1991 and 1992. With this the FAE had three light-attack squadrons that also undertook advanced training.



FAE rushed also the Strikemaster Mk.89/89As of the Escuadrón de Combate 2313 in combat. Armed with Mk.81 bombs they flew air-to-ground sorties and armed patrols, frequently in conjunction with A-37Bs. (Artwork by Tom Cooper)



Meanwhile, the FAE was on the search for a supersonic fighter all through the 1970s. The preferred solution was the IAI Kfir C.2, but because of an US embargo on the transfer of their General Electric J79 engines to Latin America, Ecuador eventually turned to France and Dassault for Mirage IIIs or 5s. Lengthy negotiations were finalized only in late 1977, when an order for 16 Mirage F.1JAs (based on the multi-role F.1E) and two F.1JE two-seat conversion trainers was issued. After initial pilot-training by EC.5, at Orange, the aircraft were delivered between December 1978 and December 1979, the two trainers following in 1980. They entered service with Escuadrón de Caza 2112 at the newly-built Taura AB, some 200km south of Quito, replacing Cessna A-37Bs. Ecuadorian Mirages were equipped to a quite usual standard, with VOR aerials and bullet antennas for Thomson-CSF BF RWR, and in the late 1980s upgraded – with Israeli assistance – with the ability to carry eight Israeli-made P-1 bombs (four beneath the fuselage and the remained under the wings). At least four were lost in different accidents in the 1980s and 1990s.

Already back in 1974, Ecuador was one of the first customers for SEPECAT Jaguar, ordering ten Jaguar International ES single-seaters and two Jaguar International EB two-seaters, with deliveries starting in 1977, as well as three attrition replacements in 1991 (the last three were all ex-RAF Jaguar GR.Mk.1s, refurbished by BAe). Developed on the basis of the British GR.Mk.1, Ecuadorian Jaguar International ESs was powered by Adour 804 engines and fitted with "chisel nose" for the Ferranti ARI23231 Laser Rangefinder & Market Target Seeker (LRMTS), as well as a prominent RWR antenna on the tailfin. Like most of the other customers, the FAE opted for overwing pylons for Matra R.550 Magic Mk.I missiles, as well as British-made 455kg bombs and Hunting BL.755 CBUs. While the FAE purchased no guided weapons for its Jaguars, two US-built AN/ALE-40 chaff & flare dispensers were scrabbed on the lower fuselage of every aircraft in the fleet.

The Jaguars replaced the remaining Canberras, which in the later years of their careers were used as conversion trainers for fast jets, but also as lead-in low-level trainers for Jaguar-crews. Only three airframes were left in operational condition by 1980, and they were subsequently placed in storage.

In early 1981, Ecuador finally ascertained US permission for acquisition of Kfir C.2 fighters. Barely weeks later, on 21 May, the contract for ten single-seat C.2s and two TC.2 two-seaters was signed. The conversion of FAE pilots was undertaken very swiftly, the first group returning from training in Israel already on 11 August 1981, pending deliveries. The newly-established Escuadrón 2113 was declared operational on the type already on 11 June 1982. Initially upon their delivery, Ecuadorian Kfirs were mainly used as interceptors, armed with relatively old Shafrir Mk.II missiles, despite having a considerable air-to-ground capability and highly effective mission-optimized avionics systems.

Ecuadorian transport units were equipped with two Lockheed C-130H Hercules and three L-188 Electras, as well as four Avro/BAE HS.748s, while the small helicopter arm flew US-made Bell 47Gs, 212s and 214s, as well as UH-1Hs (the later were used for search and rescue duties)

Ecuador also suffered from problems with its economy in the 1980s and the 1990s, but not to the same degree like Peru. The rapid development of the FAE was slowed down in the late 1980s, but not as much as that of the Peruvian air force: Ecuador found strength to maintain one of the most capable air forces in South America. Still, most of the FAE aircraft and units were based at Quito, including the flying school and main combat assets – for cost-saving reasons. In exchange, the FAE managed to slowly modify the available assets.



The FAE Jaguar International ES fleet was held back in reserve during the wars in 1981 and 1995: like Peruvians, Ecuadorians were concerned about a possibility of a wider conflict, and in that case knew they would need an additional fighter squadron to cover other parts of the long border to Peru. Note that the Jag' shown on the artwork bellow was camouflaged in "negative" of the standard camouflage pattern applied on Ecuadorian Jaguars; it also wears the cartoon of a Jaguar on the nose. (Artwork by Tom Cooper)



The "Protocolo" or "Paquisha" War
Tensions between Ecuador and Peru are high already since the early 1980s, and the two countrys were again in war in January 1981, after a Peruvian patrol discovered an Ecuadorian infiltration south of the Cordillera del Condor (usually shortened to Condor Cordillera), where Ecuadorian military captured the Peruvian Watch Outpost No.22 and established a new outpost, named Paquisha (the same name of another Ecuadorian outpost north of the Condor Cordillera). The Peruvian government denounced the infiltration as aggression and claimed Paquisha to be an illegal outpost according to the Protocolo de Rio, giving it the name Falso Paquisha (False Paquisha) to distinguish it from the other outpost in well-established Peruvian territory.

Regardless if Paquisha or Falso Paquisha, all such points in dispute in 1981, as well as in 1995, were barely anything more but simple military outposts consisting of a clearing in the jungle barely large enough to permit helicopter landings and some kind of quarters for a small garrison. There are no villages in the region: bar few small Indian tribes this area is very scarcely inhabited. Nevertheless, the Peruvian military prepared a well set-up operation with aim of expelling Ecuadorian troops from their positions. Deploying a large number of Mi-8TV helicopters of the Aviación del Ejército del Perú (Peruvian Army Aviation – AEP) and the Grupo Aéreo Nº3 of the FAP to support their Jungle Brigade, the Peruvians were successful in bringing Falso Paquisha under their control with few casualties. Ecuadorians pulled back, and the Peruvian President Fernando Belaunde visited the combat zone a few days later, exhibiting to the press some of the captured equipment, including several anti-aircraft machine guns, as mounted on US Army M-16 half-tracks, in the WWII. As they stood alone on the battlefield when the fighting was over, the Peruvians were considered as victorious.

In fact, given the nature of the conflict, the FAP was utilizing its assets very carefully. Initially, only the A-37Bs of the Grupo 7 were used for flying few strike sorties. But, with the time they were joined by Mirage 5Ps of the Grupo 6, based at Chiclayo AB, which performed as escorts. The majority of the Sukhois of the Grupo 11 were held back in the coastal region, in reserve and as a dissuasive force. Nevertheless, they flew some strike sorties as well, and in total the Peruvians recorded that the 1111th Squadron flew no less but 79 hours in combat during this war, including some air defence and reconnaissance missions.

The FAE was careful as well, its fighters seldom venturing anywhere near the combat zone. This was proven when a Mirage F.1 flown by Lt.Col. William Birkett Mórtola came under attack of Peruvian SAMs, and had to evade by a hard manoeuvre, in late January 1981. Ecuadorian Jaguars were held back: their sole contribution to the fighting was a mission aimed to find a Peruvian radar station set up in north-western Amazon region. Flown by Capt. César Naranjo Anda at a very low level and deep into the Peruvian airspace, the results of this sortie were considered as successful, but subsequently the Jaguars were put in reserve and – although their crews were briefed for possible attacks against FAP airfield – did not fly any combat sorties.

Only two air-to-air encounters between FAE and FAP fighters are known. On 28 January, Ecuadorian A-37B "FAE384", flown by Capt. Rommel Romo and Lt. Jorge Gabela, accompanied by A-37B "FAE381", flown by Lt. Victor Pena and Lt. Galo Chico, engaged two FAP A-37Bs near Cordillera del Condor. In the ensuing dogfight between equal opponents, Capt. Romo manoeuvred behind one of the FAP fighters firing in the process until his ammunition was spent but without causing any damage. Meanwhile, Lt. Pena's Dragonfly was hit by the other Peruvian fighter and forced to disengage. His A-37B was subsequently repaired. In another case, an Ecuadorian Mirage F.1JA engaged a Peruvian Su-22, firing a single Matra R.550 Magic Mk.1 – against a target that was moving at high speed along the verge of missile's envelope. Without surprise, the small Magic lost the lock-on and missed.

The 1981 War therefore remained localized along a very small front, despite some generals in the Peruvian army wanting a full scale conflict and the occupation of an Ecuadorian province to guarantee the full execution of the 1942 Protocolo del Rio. However, it did result in some interesting lessons – foremost on the Ecuadorian side, where the negative experience with the R.550 Magic Mk.I resulted in acquisition of a small batch – probably some 40 rounds – of early Magic Mk.IIs, by the late 1980s (another batch of 40 was purchased in July 1998). At least when it comes to air-to-air missiles, therefore, the FAE was to meet the next war in a much better position.

At least as important was the fact that Ecuadorians have subsequently built a number of airfields along the disputed area, including Mariscal Lamar, near Cuenca (with an asphalted runway 1.900m long), but also in Gualaquiza (with an asphalted runway 2.000m long) – only some 100km from the disputed area – and near Patuca (with an asphalted runway 1.600m long). Several auxiliary landing strips were cleaned in the jungle as well, permitting operations of light transports, capable of short-take off and landing (STOL) operations, such as DHC-6 Twin Otter 300s, operated by the Ala de Transporte 11, based at Quito IAP.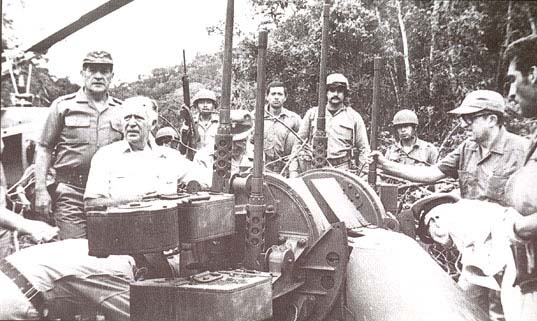 Peruvian President seen inspecting equipment captured from Ecuadorians during the war in 1981. (via Esteban Rivera)



The Condor War
Following the clash in 1981, both sides established a chain of bases in the jungle of the Condor Cordillera area, along this 78km long corridor between Zamora and Santiago Rivers. A chain of very high raised observation posts supported these bases. Some of the posts and bases were very close near each other, and many skirmishes erupted time and again. Most of these occurred suddenly and at very short ranges, then the jungle made detection extremely problematic beyond the distance of 20m.

Even after an agreement between Ecuador and Peru from 1992, about the "status quo" of this area, Ecuador never recognized the border line to Peru in Condor Cordillera area. On the contrary, as late as December 1994, Ecuadorian troops patrolled the zone at their will and without any opposition from the Peruvian Army. Considering the local terrain and vegetation, as well as the number of Peruvian observation posts, it is little surprising that such patrols initially went unobserved. Asphalted roads were non-existent in the combat area. In fact, there were no paved roads in the whole department of San Martin on the Peruvian side: the nearest paved road is no less but 300km away from the Condor Cordillera area. Therefore, foot patrols are the main mean of movement. The only way of supplying and supporting units deployed on different posts in the jungle was with help of helicopters. Over the time, few small landing strips were cleaned as well.

For supplying Peruvian Army outposts in the area, the FAP established a regular air bridge, using Escuadrón 842's Antonov An-32s to fly supplies from Lima to Bagua-El Valor airport, near Jaen, from where these were airlifted with Antonov An-72 and Shanxy Y-12 light transports to Ciro Alegria and Galilea, stations in Amazon where Peruvian troops were also issued tropical uniforms and other equipment required for combat and survival in the jungle. From Ciro Alegria and Galilea, the troops and supplies were flown by Mi-8s, Mi-17s and Bell 212s to various points in the Condor Cordillera, foremost the base designated PV-1, in the Cenepa River Valley, as well as to the "Storm" heliodrome, in the "Alto Cenepa" (Upper Cenepa) area. Sometimes also boats were used for transporting troops and supplies.

Flying over the mountain ranges between Alegria and Condor Cordillera was always extremely dangerous. The weather could change in a matter of few minutes and no radar stations can cover the whole area: the few available units on both sides could only cover the airspace above the surrounding mountain peaks. Availability of rescue helicopters and equipment was always depending on elements, and chances of finding crash-sites or downed crews in the thick jungle between high mountain peaks less than minimal.

In early 1995, Ecuadorian Army began concentrating some of its best troops – foremost special forces units – in the Cenepa Valley. These established a number of additional strongholds and reinforced positions of the available bases. Soon enough their presence was to be felt by the Peruvians.


FAP Harbin Y-12 and AEP Mi-8 seen at Ciro Alegria, together with Peruvian Army reinforcements deployed in the area. (via Esteban Rivera)



Battle of Tiwintza
On the late afternoon of 9 January, around 17:30hrs, a four-man patrol of the Peruvian Army's 25 Battalion "Callao" was caught by a patrol of the Ecuadorian Army's 63 Battalion "Gualaquiza" - while underway on Peruvian territory. The Peruvian troops were captured and disarmed, but returned to the commander of the Peruvian military post Soldado Pastor (P.V.1) already on the following day. Considering this incident, the Peruvians dispatched another patrol in the same area on the morning of 11 January. Around 13:00hrs, this patrol – this time including at least ten troops – stumbled into another Ecuadorian ambush: when ordered to drop their weapons the Peruvians refused. A short fire-fight ensued, resulting in the Peruvian patrol being dispersed and the troops leaving their equipment behind.

Both sides reacted by bringing in reinforcements into the zone. Using additional FAP DeHavilland Canada DHC-6 and Harbin Y-12 light transports, as well as AEP Mi-8 helicopters, the Peruvians began flying reinforcements needed to counterattack and bring the area considered as their back under control. Ecuadorians deployed reinforcements as well, building additional fortifications in order to prevent "incursions" into areas they considered as their.

After hauling enough troops and supplies to the Cenepa River basin and to border posts along the Condor mountain range, the Peruvians began a series of reconnaissance missions, followed by forward movement of their artillery- and mortar units. On 21 January, the FAP and AEP helicopters deployed a number of mortars and light artillery pieces well behind Ecuadorian strongholds, and these began shelling enemy positions. In response, the Commander of the Ecuadorian 65 Battalion warned his PA counterpart that in the future such flights would be fired at. The war was already in looming however, and there was no way back for the Peruvians now, as their troops carefully began infiltrating Ecuadorian positions, attempting to set up an attack from their rear.

On the morning of 22 January, AEP helicopters brought in additional troops and equipment, deploying them behind the Ecuadorian defence line – eventually forcing the Commander of the 65 Battalion to order a counterattack. For the following four days his units marched through under extreme conditions, until reaching the Peruvian outpost at Tiwintza: a carefully prepared and coordinated attack, launched on the morning of 26 January, caused surprise and resulted in Peruvians being scattered, leaving several dead and supplies for two months behind.

Having lost a precious outpost, the Peruvians immediately began repositioning their units for new action. In the night from 26 to 27 January, the officer in charge of the Peruvian 25 Battalion "Callao", ordered his counterpart of the Ecuadorian 63 Battalion Gualaquiza to evacuate the zone where these two units were opposing each other, because the Peruvian forces were about to occupy Ecuadorian territory during the approaching weekend. These demands were instantly rejected. A meeting between Col. Jose Grijalva Palacios, commander of the Ecuadorian Army's "Condor" Brigade, and Gen. Bladimiro Lopez Trigozo, commander of the Peruvian 5 Jungle Division, as well as international attempts to reach an agreement, ended without results and the situation then swiftly slipped out of control. On 27 January, Ecuadorian President Sixto Duran Ballen declared a state of emergency in Ecuador. Peru responded by mobilising thousands of troops to the border area; the largest refinery in the country at Talara was preparing for air raids, while the two Peruvian international airlines have suspended flights to Quito, Ecuador's capital.

At 07:45hrs on 28 January 1995, the Peruvians attacked Ecuadorian positions at Tiwintza. The first assault was thrown back, but the attackers regrouped and attempted again around 11:05hrs, this time supported by Mi-8 and Mi-17 helicopters, armed with rocket- and machine-gun. After another failure, and an Ecuadorian claim for hitting a Peruvian helicopter that passed low over Tiwintza, air support was requested and around 12:05hrs the first FAP fighter-bombers appeared overhead, attempting to identify the positions bellow. As soon as two FAE interceptors approached the area, however, the Peruvian fighter-bombers withdrew.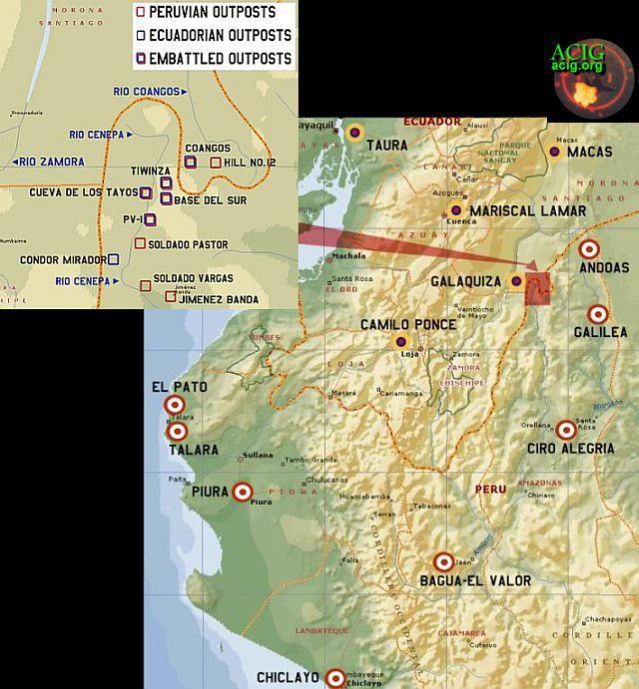 Map of the main airfields in southern Ecuador and north-eastern Peru used during the conflict in 1995, as well as the disputed area of Condor Cordillera. (Map by Tom Cooper, based on Encarta 2003 software)



Busy Peruvians
When hostilities erupted, the FAP scrambled to bring as many aircraft into operational condition as possible. Immediately available were only seven Sukhoi Su-22s and Su-22Ms, based at Talara, but - even if up to 20 additional airframes could be made airworthy within a relatively short period of time - these were held back in reserve in case of a wider war, the FAP considering that a two-wave strike of up to 20 Sukhois against Talara AB might cause sufficient damage to keep the FAE completely out of the war. For the same reason the Mirage 5P-fleet did not see much action either, even if up to 15 airframes based at Chiclayo could be made operational within a week or two. The three available Mirage 2000Ps were deployed to El Pato AB, just few kilometres north-east of Talara. Later during the war, few additional examples were forward-deployed to Quinones, from where they flew air defence sorties. A better part of the A-37B-fleet was already based at Capitan Concha airfield, near Piura, but only eight were immediately available for action. Other assets, foremost helicopters – including Mi-25 gunships, but especially additional Mi-8s, Mi-17s and Bell 212s of the Grupo Aéreo No.3 – have had to fly a longer way to the combat zone. Nevertheless, in emergency, the FAP readied even Embraer EMB.312/AT-27 Tucano trainers, based at Capitan Elias AB, near Pisco, in southern Peru, for combat operations: equipped with night-vision goggles (NVGs) and Mk.81 bombs, they were deployed for night attacks.

The AEP was busy doing the same, while attempting to move as many additional troops from southern and central Peru to Baqua, and then forward them into the combat zone. The lack of roads or other means of transport put the Mi-8TVs and Mi-17s of the Batallón de Assalto y Transportes No.811 and No.821, temporarily deployed to Ciro Alegria and Galilea, under immense stress, and they had to even increase the number of sorties flown as additional troops arrived. More helicopters were needed for deployment of ground troops around the combat zone – where a movement of any unit over only a few hundred meters could take several days. In addition, the Mi-8s and Mi-17s provided fire support with rockets and gun pods. In summary, however, the Peruvian build-up was slow, and the FAP as well as the AEP never reached their full potential during this war, nor managed to bring sufficient troops into the combat zone.

The work on Ecuadorian side was not easier, even if the FAE was in a better condition than the FAP – especially in regards of operational capabilities and maintainability of its aircraft. At the time of the Condor War, Ecuadorians could reach back on 12 Mirage F.1JAs, ten Kfir C.2s, ten Jaguars and ten A-37Bs. As main strike-asset, Jaguars were held back in reserve: the FAE wanted to have them ready and free to strike back deep into Peru if necessary. For the rest of the war, therefore, the Jaguars stood alert, deployed at airfields in the coastal region, armed and ready.

Although multi-role by design, Mirages and Kfirs were to be foremost used as interceptors. The FAE initially held them back for air defence purposes: it was not to be before several days into the war that a small number of both types was released for duty over the combat area. Until then – and leaning back on lessons from 1981 – in the first days of the war Ecuadorians deployed a large number of commando-troops equipped with British-made Blowpipe and Russian-made SA-16 MANPADs in Condor Cordillera area. These were connected with COS-1 and could thus decrease the pressure upon air force's interceptors – as well as prepare several bitter surprises for the Peruvians.



FAP Mi-17s and Peruvian Army Aviation Mi-8s saw heavy duty during the war with Ecuador, being deployed in transport-, attack and MEDEVAC-roles. The Army lost at least two Mi-8TVs, while the FAP is claimed to have lost two Mi-17s, but such claims are yet to be confirmed. (Artwork by Tom Cooper)



The Slugging Match
After concentrating additional units and equipment, on 29 January at 10:00hrs, the Peruvians launched massive and simultaneous attacks upon Tiwintza, Cueva de los Tayos, Base del Sur and Coangos, this time supported by FAP fighter-bombers and artillery right from the start. Ecuadorians fought back bitterly, using every weapon at their disposal – including Blowpipes. The later shot down the FAP Mi-8TV "EP-587" that was underway between Base del Sur and Coangos, near Ecuadorian strongpoint named "Lieutenant Ortiz", killing the crew consisting of Capt. Luis Garcia Rojas, Lt. August Guitérres Mendoza, technician Victoriano Velards, as well as privates Rubén de la Cruz Huarcaya and Gustavo Begazo Gonzilez. Another Mi-8 was claimed shot down near Tiwintza, but never confirmed. For their part, the Peruvians claimed three Ecuadorian strongpoints as captured, but the later denied any such claims, instead admitting a loss of one killed, seven injured and six missing.

Whatever the result, the battle was certainly not over then – after another break for reorganisation and hauling of more supplies – two days later the Peruvians attacked again. This time they attempted a flanking movement over the Tiwintza River, coordinated with a frontal assault that began at 12:25hrs. According to Ecuadorian accounts, this attack was stopped cold by 16:00hrs. Two other attacks, at Coangos and Cueva de los Tayos, apparently caused some losses to Ecuadorians, then their High Command subsequently announced it would not accept an internationally brokered cease-fire: Peru turned this offer down as well, and continued massing forces opposite to Tiwintza instead.

The next Peruvian attack followed already on 1 February, and was launched at 10:00hrs, this time with Cuangos and the strongpoint named Condor being the main targets. The assault continued through 11:25hrs, with support of A-37s, helicopters and artillery, guided by several other helicopters acting as forward air controllers (FAC). By 13:35hrs the fighting spread towards the Cueva de los Tayos, when one of Peruvian Army units run into a minefield and suffered heavy losses (according to Ecuadorian sources, more than 130 Peruvian troops were mutilated by anti-personnel mines during this war). After extracting and evacuating casualties, the Peruvians continued their onslaught on the following morning, with simultaneous attacks against Coangos, Cueva de los Tayos Base del Sur and Tiwintza. The FAP flew at leas a dozen of strike missions, bombing Ecuadorian positions at Base del Sur and Cueva de los Tayos repeatedly – and finally causing a reaction from the FAE. Once again, however, the FAP fighter-bombers and AEP helicopters were withdrawn as soon as a pair of Ecuadorian interceptors appeared in the area. The later came away without finding any of Peruvian aircraft. The reason was that their task was by no means easy: the weather changed frequently and – due to the terrain – they were limited to visual interception. Besides, they were still based at Taura AB and therefore their reaction time was relatively long then they needed up to 20 minutes to reach the combat zone and the FAE radars were usually late in detecting low-flying FAP fighter-bombers. This meant, that most of the time the Peruvians could attack their targets undisturbed. Nevertheless, from available reports it is obvious that already at around this time the FAP Mirage 2000Ps began providing top cover to A-37s and other fighter bombers.

Correspondingly, the FAE was now about to become involved more intensively as well, as a temporary "squadron", equipped with four Kfir C.2s and two Mirage F.1JAs was forward deployed to either Macas, Mariscal Lamar or Patuca airfield – Ecuadorians would not reveal this detail. This unit became operational on 9 February, a day after the Air Group Amazon was formed with three detachments of two A-37s each, and a total of 12 pilots, at Manta AB, near Macas. Both units were put under overall command of Col. Wilson Salgado, commander of Local Command Center 1 (COS-1), who had the task to coordinate air operations in the combat zone. Salgado's COS-1 had at least two GCI-stations with long-range radars deployed as close to Condor Cordillera as feasible, and was directly responsible to the Comando de Aviacion de Combate (Combat Aviation Command), then under command of Col. Gustavo Buchelli.

Besides, from 3 February, FAE A-37Bs and Strikemasters became involved as well, flying armed reconnaissance patrols and also attacking enemy positions. The FAE strikers were escorted by Mirages and Kfirs – a luxury situation the Peruvians could not afford: most of their helicopter and strike operations in the combat zone were flown without any top cover.

The fighting subdued in the following days, as both sides hauled ever more supplies to their forward units, exploiting the break caused by international attempts to negotiate. The flying therefore never ceased – nor was it ever less dangerous than before. On the morning of 5 February, six FAP AT-27s delivered a fierce attack against Base del Sur, and in the night to 6 February, a FAP Canberra B.Mk.68 was claimed shot down by Ecuadorian AAA, apparently killing the pilot Capt. Percy Philips and his navigator, Capt. Miguel Alegre. Other sources claim that the bomber collided with a mountain in bad weather. Given that their bodies were not found until today, both crew members were declared missing in action. The appearance of Canberras, nevertheless, shows that the FAP began to consider this conflict for a serious affair, as well as that it was searching for solutions for how to bring an increased tonnage of weapons to bear while facing an increasing MANPAD threat in the combat zone. The Canberras are certainly faster than helicopters or A-37Bs, and might therefore have been considered as less vulnerable to the threat; the loss of the precious bomber was definitely felt within the FAP.

How dangerous the Condor Cordillera became for helicopters was illustrated on the following day, 7 February. Around 14:20hrs several FAP Mi-25s attacked Ecuadorian positions at the Base del Sur, when they were confronted by multiple SA-16s. One of the helicopters was shot down by no less but two or three of the missiles, killing the crew, consisting of Lt.Col. Marco Schenone Oliva, Capt. Raúl Vera Collahuazo, and private Erik Diaz. Approximately around this time Ecuadorians claimed also a Boeing CH-47 as well as a Bell 212 for shot down, but no confirmation was ever issued. As it seems, the FAP never even deployed any CH-47s during the crisis, while the Bell 212s were mainly used as FAC and remained out of the danger zone most of the times.

The FAE was active over the battlefield on 7 February as well. Guided by Beechcraft T-34C TurboMentors that acted as FAC, a group of A-37Bs – escorted by Kfir C.2s – attacked Peruvian positions at the Condor Mountain, when Lt.Col. Briones was warned by his wingman of an incoming missile. Seconds later, a MANPAD hit near the right engine. Briones regained control of his aircraft and returned it safely to the nearest airfield. The A-37B was reapaired and operational later on the same day.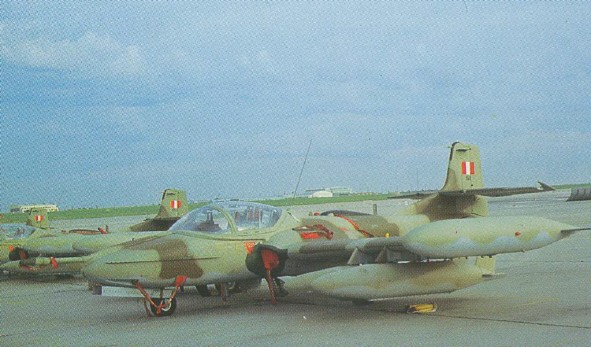 FAP AT-37Bs, seen in late 1970s. Although an effective light strike aircraft, if still wearing the same camouflage, Peruvian Dragonflies were ill suited for CAS-operations low over the jungle and in areas where Ecuadorean interceptors were active. (Cessna, via Tom Cooper)



Air Battle of Alto Canepa
After a failure of negotiations, on 9 February, fiercest fighting broke out, and the FAP was now very active, launching a total of 16 combat sorties – including few by Mirage 5Ps and Su-22s. Obviously as more was at the stake, and threats higher than originally calculated, the Peruvian High Command concluded that it was about the time to bring some of reserves to bear. The main targets of FAP strikes were Coangos and Base del Sur. The activity continued into the following night, FAP Canberras bombing Ecuadorian positions in the Cenepa Valley, and in the morning of 10 February, FAP A-37s and Su-22s also flew a series of strikes against Tiwintza and Cueva de los Tayos. AEP helicopters were involved as well – a fact confirmed when Ecuadorians again claimed two FAP Mi-8 as shot down; another claim that was never confirmed.

The increased and intensified appearance of the FAP fighter-bombers and helicopters finally resulted in Ecuadorian decision to establish air superiority over the battlefield. When the GCI-station "Halcon" – obviously posted on one of the mountain peaks in the Loja area, from where it could see deep over northern Peru – informed the COMAC about tracking five "red" (meaning Peruvian) aircraft approaching the combat zone at speeds between 300 and 400km/h, at 12:42hrs, Col. Buchelli ordered Col. Salgado of the COM-1 to arrange for the Mirages and Kfirs to be scrambled. The two officers agreed that this time the fighters were to intercept and shot down whatever FAP aircraft they might find. In order to enable the later task, they have had to organize also the evacuation of all FAE assets already operating over the Condor Cordillera. Consequently, at 12:47hrs, the COS-1 issued the order for two Mirage F.1JAs and two Kfirs to be scrambled – probably from Mariscal Lamar airfield, or from Macas. (Note: Ecuadorian sources all give Taura AB as the airfield from which the FAE interceptors involved in the following air battles came; however, Taura AB is over 200km away from the combat zone, while in their narratives FAE pilots clearly stated that they engaged barely eight minutes after taking off, and only then engaging afterburners increasing their speed to supersonic; considering these facts, it is obvious that the Mirages and Kfirs were based closer to the combat zone).

Airborne by 12:49hrs, the two Mirages, flown by Maj. Raul Banderas (on FAE807) and Capt. Carlos Uzcategui Soli (on FAE806), approached the combat zone as first, followed by a pair of Kfir C.2s, flown by Capt. Mauricio Mata (on FAE905) and Capt. Wilfrido Moya (on FAE909). While interceptors were flying towards south-east, at 12:55hrs, the COMAC recalled a FAE T-34C that acted as FAC, away from Condor Cordillera, in order to prevent a possible "blue-on-blue" engagement. Meanwhile, at 12:53hrs, two A-37s based at Macas were put on alert.

This time the FAE interceptors arrived in time to even make a few patrol turns before engaging; the difference to earlier events was that some of FAP fighters – probably Mirage 2000Ps – were flying high, thus exposing themselves to detection by FAE radars. Indeed, Maj. Banderas later stated to have had the first enemy fighter on his radar scope barely eight minutes after taking off. The planes his Cyrano IV radar detected were two FAP Su-22Ms, flown by Lt.Col. Victor Manuel Maldonado-Begaza and Maj. Enrique Caballero Orrego "Poeta", of the FAP Escuadrón de Caza 111 "Los Tigres". These cut the corner over the border, penetrating as deep as 16km into the Ecuadorian airspace before taking a course parallel to the boundary and then descending to a level of 600m above the ground in preparation for an attack against Tiwintza.

Banderas selected afterburner accelerating and turning so to bring his and the Mirage of his wingman to a deep six o'clock position behind the two Sukhois. While doing so, his RWR warned him that his aircraft was detected and tracked by the radar of an enemy fighter. At 13:15hrs, ignoring the warnings, Capt. Uscategui approached to the firing distance and launched one R.550 Magic, starting what was to become the first-ever air-to-air combat between two Mach-2 capable fighters in Latin American history. His missile hit the Sukhoi flown by Lt.Col. Maldonado-Begaza, forcing him to eject before his fighter crashed into the jungle bellow. Meanwhile, Banderas scored a hit at Orrego's Su-22M as well, but the sturdy Sukhoi continued flying. In a hurry because of the warnings from his RWR, Banderas swiftly selected the second Magic and fired again, the missile this time cutting the Peruvian fighter in two, the wreckage falling to the ground.

The two FAP-pilots never knew they were under attack: their fighters were not equipped with RWRs. Lieutenant-Colonel Maldonado-Begaza ejected safely, but was injured while parachuting through the jungle canopy. He survived for eight days in the jungle, without food or medicine, but finally succumbed to his wounds: his body, and the wreckage of his fighter were found on 26 February 1995; the body of Maj. Orrego and the wreckage of his fighter were found only five years later. The FAP never mounted a search and rescue operation for the two Sukhoi-pilots then there was no sign of them surviving the interception: their SABRE radios could simply not penetrate the thick jungle around them.

With their RWRs still screaming warnings of them being tracked by enemy fighters, the two victorious FAE Mirages descended deep over the jungle canopy and accelerated to supersonic speed, blasting away as they went. Neither Banderas nor Uscategui ever saw any of two FAP Mirages that obviously pursued them for almost 30 seconds, but they were not taking any chances (Carlos Uzcategui Soli was killed in an aircraft accident, in 2002; in the later years of his service a problem with his vision was detected, which prevented him from flying fast jets).



FAE Mirage F.1JA "FAE806" was one of the two Ecuadorian Mirages that participated in the clash on 10 February 1995. It was flown by Capt. Uscategui on that day, and ever since wears a kill marking for a FAP Su-22 (note the small oval insignia in Green directly over the title "Mirage F-1JA"). Ecuadorian Mirage F.1s eventually established a kind of local air supremacy in the battlefield area, apparently due to the cautious behaviour of FAP Mirage 2000s.

Newest research revealed that one of the two FAP Sukhois shot down on 11 February should have been "Su-22", serialled 014, shown here wearing the insignia of the Esc. de Caza 111, "Los Tigres". There is quite some confusion with proper designation of these aircraft in Peruvian service, then - at least officially - what is actually the Su-20M was supplied to Peru as "Su-22", and the version that is actually Su-22M-3K, was supplied as "Su-22M"!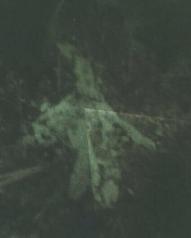 Wreckage of one of two FAP Su-22s shot down on 10 February 1995, as found in the thick jungle. (via Esteban Rivera)



Attack of Young Lions
The obvious attempt of the two Peruvian Mirage 2000s to intercept Ecuadorian F.1s was obviously a mistake, then now the other FAP fighter-bombers active over the Condor Cordillera were left without top cover. The other two FAE interceptors, the Kfir C.2-pair, namely, were still in the area, their pilots following the development of the encounter between Mirages and Sukhois. In fact, they reached their CAP-station 15 minutes before the GCI vectored them to intercept a formation of FAP A-37Bs that were about to strike Ecuadorian positions in the combat zone.

Approaching the newly assigned area, Capt. Wilfrido Moya sighted two FAP Dragonflies low over the jungle from a range of eight kilometres. The FAP pair was led by Lt.Col. Hilario Valladares and Maj. Gregorio de Mendiola, with wingman Lt.Col. Fernando Hoyos: the two high officers both volunteered to fly this mission in order to state an example for younger pilots of their unit.

The Peruvian pilots sighted their enemies as these were almost within the missile range. Valladares and Hoyos both jettisoned their ordnance, descended and executed a combat turn, attempting to face the Kfirs and thus deny them an opportunity for missile shoots. The Kfirs were faster, however: Capt. Moya fired one Shafrir Mk.II from a maximum range, as his target was no less but 90 degrees off and turning. Before being able to complete his turn, Valladares sighted the missile approaching and then felt a heavy hit. Both engines were instantly out and the rudder control severed, the A-37 being thrown upside down and into a flat spin. While his pilot was struggling to regain control over the mortally hit Dragonfly, Mendiola noticed they were inverted and falling out of the sky, and finally decided to pull the handle – ejecting them both at a very low level. Both pilots landed safely and were later picked up by a FAP helicopter. Meanwhile, Hoyos evaded additional attacks by the two Kfirs executing a series of tight turns at a very low level around surrounding mountain peaks, and disengaged safely.

Upon this loss of an A-37B, the other FAP aircraft and helicopters were immediately ordered to leave the area: the Ecuadorian Air Force thus established local air superiority over the battlefield. Certainly, the downing of three Peruvian fighter-bombers presented an immense triumph for Ecuadorian military, leaving no questions open.



FAE Kfir C.2 "FAE905", in camouflage and with markings as during the war in 1995. This aircraft was flown by Capt. Mata on 10 February 1995, when he shot down a Peruvian A-37B Dragonfly. Note the kill marking - in the form of a small silhouette of an AT-37B, together with the Peruvian fin-flash, applied underneath the forward part of the cockpit. Of interest is the carriage of three supersonic drop tanks - somewhat unusual appearance outside Ecuador. When carried on underwing hardpoints, these drop tanks could also be configured to carry two 100kg bombs each. During the air battle on 10 February 1995, this fighter, and the Kfir C.2 "FAE909" were armed with Shafrir Mk.II missiles, carried on outboard underwing pylons (not shown here). (Artwork by Tom Cooper)

FAP A-37s bore the brunt of air action during the war in 1995. Mainly armed with Mk.81 and Mk.82 bombs, sometimes also with unguided rockets, they flew dozens of attacks on Ecuadorian positions. However, camouflaged in desert colours, FAP Dragonflies proved ill-prepared for air combats over the jungle and two were easily sighted from considerable range (over 8.000m) by FAE Kfir-pilots, despite their diminutive size and low-level flying. The exact serial of the A-37B shot down by Ecuadorian Kfirs remains unknown; the example depicted here wears the serial "151" and was delivered in 1977. (Artwork by Tom Cooper)



The FAE in Counterattack
The FAP was back in the air already on 11 February. After forward deploying a number of A-37Bs to Ciro Alegria and Galilea, these were ordered to fly new attacks against Ecuadorian positions outside the area considered as under control of FAE interceptors. In the following night Peruvian Canberras attacked Ecuadorian positions as well, and one of the bombers was claimed as shot down. The Peruvians denied the loss but claimed a FAE A-37B as shot down by SA-16 MANPAD, sometimes between 17:30 and 18:00hrs, reportedly by FAP technician Sanjinés Roldan. This claim was true in as far as an FAE A-37B was hit: Dragonfly flow by Capt. Rodrigo Rojas and Lt. Manolo Comancho, was hit by an SA-16 while attacking Peruvian positions in the Cueva de los Tayos area. The detonation shut down the left engine and caused damage to the wings, but Capt. Rojas regained control and managed to land safely at Macas. His aircraft was repaired and back in combat already three days later.

Subsequent reports indicated that one Kfir might have been damaged instead, but the FAE appears not to have used the type in air-to-ground role, preferring to deploy it as interceptor or strike-escort. Namely, with the control of the air now in enemy hands, the Peruvian troops have had to dug-in in front of Ecuadorian positions at Base del Sur, Tiwintza and Cueva de los Tayos. Now it was the time on the FAE to hit back, and this was the task of Air Group Amazon's A-37s based at Macas. Permanently guided by T-34 FAC, the Ecuadorian Dragonflies flew a series of strikes over most of 12 February (this unit flew a total of 160 combat hours during the conflict). Around 14:30hrs, one of the Ecuadorean fighter-bombers was again claimed as shot down by Peruvian SA-16s, this time fired by the FAP technician Jesús Abal Yabar. Barely half an hour later, the Peruvians then claimed a FAE Kfir C.2 as hit by SA-16. There is no confirmation for the Ecuadorians suffering any such losses however.

During preparations for the final Peruvian onslaught, planned for 14 February, on 13 February 1995, the Peruvian helicopters continued hauling troops and supplies into the combat zone, but also flying attack sorties against Ecuadorian positions. Given the amount of MANPADs and anti-aircraft artillery the Ecuadorian Army meanwhile deployed in the area, losses were unavoidable. The FAP Mi-8TV "EP-547" was hit and shot down by Ecuadorian AA near Rio Tatangosa. The crew survived the crash, but had to trek back to Peruvian positions through jungle for eleven days. Capt. Gustavo Escudero Knoll, Lt. Eduardo Guiterrez Rondon and Sgt.Maj. Manuel Gonzalez Durand died of exhaustion and injuries suffered during the crash before they could be recovered. Ecuadorians claimed also the downing of another FAP helicopter on this day, probably a Mi-17, but closer circumstances of this possible loss remain unknown.

Despite the apparent failure of their final offensive, on 16 February the Peruvian President Alberto Fujimori declared a victory in the war and an unilateral cease-fire. Ecuadorians apparently concluded it was enough for them as well, and they accepted an UN-brokered cease-fire, thus ending the war the outcome of which remains not entirely clear. The international observers deployed in the area subsequently confirmed that Tiwintza was still in Ecuadorian hands; the Peruvians responded that this was the last stronghold in the whole Condor Cordillera still under enemy control.

While negotiations were going on, there was no end of operations for either air force. While the FAE continued flying reconnaissance sorties over Condor Cordillera well into April 1995, the FAP Mi-8s strafed several minefields between Tiwintza and Ampama, to help deactivate plastic mines planted by Ecuadorians, on 21 February, and on the following day the Peruvian CH-47s and Bell 212s deployed a large Army battle group in the area, causing a fierce US-protest based on the fact that these helicopters were sold to Peru to be used in counter-narcotic operations. While subsequently some of the "bloodiest battles of the whole war" were reported, there is no confirmation for any additional fighting to have occurred, however.



Above and bellow: this was the A-37B "FAE392", damaged by a MANPAD on 14 February 1995. The aircraft was ever since named "Tiwintza" in the memory of that mission, and should still be in service with the 2311 Squadron.




Conclusions
During this short, but bitter and bloody war, Peruvian Army suffered a loss of some 300 troops killed, injured or missing, as well as at least two AEP Mi-8TVs shot down. The FAP lost a Mi-25, two Su-22s and one A-37B, as well as a single Canberra B.Mk.68. While it is possible that additional losses occurred (the number of helicopters reportedly lost might be around five), these were never confirmed. Considering the fact that the FAP flew some 160 combat sorties, while the AEP helicopters undertook additional hundreds of transport-, attack- and MEDEVAC missions, the overall loss rate remained actually very low, well bellow two percent. Due to the low maintainability rates in the FAP at the time of the war and the close relationship within the Peruvian pilot-community, every loss – especially one suffered in air-to-air combat – was heavily felt. Reports about certainly significant losses of the Peruvian ground forces did not help improve the morale of the air force. This was probably the main reason for the decision in Lima to give up the fighting and declare a unilateral cease-fire.

Ecuadorians claim not to have lost any aircraft: two A-37Bs and – possibly – a Kfir were damaged by Peruvian MANPADs, underlining the threat from these weapons even against relatively modern aircraft. Nevertheless, the FAE lost a T-33A that crashed near Mancas in a non-combat related accident during the war: the crew, Capt. Garzón and Diaz, ejected at a very low level and was killed. Ecuadorian Army should have lost a single Aérospatiale SA.342 Gazelle helicopter, under – as of yet – unknown circumstances, in addition to suffering up to 100 casualties.



The Ecuadorian Army operates a small air wing, equipped with few light transports and Aérospatiale SA.342 Gazelle helicopters. The later are equipped with HOT anti-tank guided missiles. One of the later is said to have been lost during the war - but closer circumstances remain unknown. (Artwork by Tom Cooper)



The Condor Cordillera War – in Peru better known as the "Alto-Cenepa War" – was a highly interesting conflict, for several reasons. To the Peruvians it proved an urgent need for interceptor armed with effective and functioning air-to-air missiles capable of engaging targets beyond the visual range (BVR) and from all aspects. The FAP possessed such fighters in the form of Mirage 2000P, but these were not armed with Matra Super 530Ds due to the lack of funding. Possession of this weapon might have prevented the loss of two Su-22s, on 10 February, then FAP Mirage 2000Ps were obviously in the area and tracking Ecuadorian Mirage F.1JAs, but also too far away to engage effectively. The available Matra R.550 Magic Mk.Is proved to be of dubious quality already during earlier wars, not only in 1981 but foremost in the Middle East, and lacked the range, manoeuvrability, as well as all-aspect engagement capability. Ecuadorians recognized this already in 1981, and their acquisition of a small batch of R.550 Mk.IIs might have been decisive.

The other weapons used during this war belonged to a rather older generation. Despite the relatively fresh Argentinean experiences from the Falklands War, the FAP was not only impacted by the poor economic situation, but also obviously caught napping: it could not field anything better than R.550 Mk.Is, while its remaining R-3S' were probably useless by 1995.

The Shafrir Mk.IIs, as carried by FAE Kfir C.2s, belonged actually to an older generation of air-to-air missiles, originally developed in the late 1960s. They proved more effective and significantly simpler to maintain than contemporary marks of the US-made AIM-9 Sidewinder, and also at least equal if not outright superior to R.550 Mk.I, providing Ecuadorian interceptors with an high off-boresight capability not available to Peruvians. Regardless how manoeuvrable the fighters deployed by both sides during this war were, the FAE thus had a considerable edge in air-to-air combat during the war in 1995.

Understanding the lessons, immediately after the war, Peru moved to correct these deficiencies of the FAP. Not finding any source ready or able to supply advanced fighters in the West, the FAP turned to Belarus, in April 1996, ordering 16 single-seat MiG-29 (ASCC-Code: "Fulcrum C") and two MiG-29UBs. Originally armed with R-27R (ASCC-Code: "AA-10 Alamo") and R-73 (ASCC-Code "AA-11 Archer") air-to-air missiles, in 1998 these aircraft were upgraded to a standard similar to MiG-29SE, and became compatible with the R-77/RVV-AE (ASCC-Code: "AA-12 Adder") medium-range air-to-air missile, with radar homing in terminal flight phase. The R-77s arrived together with three MiG-29SEs, bought directly from Russia, the purchase of which was possible due to improved relations between Lima and Moscow once Peru had paid its outstanding debts. Previously, the Russians refused to supply spares and provide technical assistance for FAP MiG-29s, which was requested by the company Beltechexport of Belarus from Rosovooruzhenie after the first four MiGs were delievered to Peru, aboard an Antonov An-124 transport. This decision was certainly influenced by the fact, that originally MiG MAPO offered MiG-29Vs to Peru, at a price of $24 million per aircraft, but the FAP opted for Belarussian aircraft as these were cheaper, at between $11 and 14 million apiece.

The fleet of surviving fighter-bombers was improved as well. The FAP Su-20s and Su-22Ms were upgraded by Israeli-made SPS-20 RWRs and French-made SAMP chaff & flare dispensers. The capability of the fleet was further increased through acquisition of Russian-made KKR-1 photo- and electronic reconnaissance pods. In addition, in 1996, Peru purchased ten Sukhoi Su-25 single-seaters and eight Su-25UB two-seat trainers from Belarus (media often misreported the Sukhois as "MiG-25s" – causing quite some confusion in less informed circles). This type is well-known for its survivability in the face of MANPADs, as well as immense war-load carrying capability. The Su-25 is also armed with R-60 (ASCC-Code: "AA-8 Aphid") short-range air-to-air missiles for self-defence, as well as a range of guided air-to-ground missiles, including the Kh-25MK (ASCC-Code: "AS-10 Karen"), and Kh-29L (ASCC-Code: "AS-14 Kedge"). Reports about deliveries of Kh-58 anti-radar missiles (ASCC-Code: "AS-11 Kilter") were not confirmed yet, but it is known that the type was test-flown equipped with this weapon in Russia, as well as that it can be configured for SEAD-missions with help of a specialized targeting pod.

Another significant advantage on the Ecuadorian side was the availability of a functional radar network in the combat area. Here the local terrain was clearly on their side: the FAE could position a number of radar stations high on the mountain peaks of ranges in Loja and Zamorae Chinchipe departments, thus obtaining a clear view deep into northern Peru. While it is very likely that the situation was quite different at the onset of hostilities, and that Ecuadorians have not had any radar stations deployed near the combat zone before 9 February, the situation obviously changed at on around this date, and this was factor was decisive. On the contrary, the Peruvians not only suffered from almost 50% of their radars being inoperational, but have had most of them deployed either in the coastal sector, or in the Amazon, from where these had to operate against the "shadow" of Ecuadorian Andes. This meant that the FAP pilots had to operate without useful support from the ground. Worst yet, the situation was either not improved in time, or only after the end of hostilities. It remains unknown to which degree the Peruvians managed to improve the condition of their radar net, but it is very likely that something was undertaken in the course of the modernisation introduced in the late 1990s.

Certainly, both sides could have done much better with help of airborne early warning systems – like the Embraer's EMB.145 AEW&C aircraft, introduced in service in Brazil ever since. It appears, however, that such platforms are out of financial capabilities of both, Ecuador and Peru then none were acquired subsequently.

Ecuadorians, on the contrary, managed to exploit their Mirages and Kfirs to full extension, and finally established some kind of air supremacy over the battlefield, while keeping their Jaguars in reserve. This is significant, then at the time of the war the later type was the most potent strike platform available to both sides.

Interestingly, the FAE appears not to be able to follow the modernisation of the Peruvian Air Force. The most significant new acquisition immediately after the war was a batch of 60 Python Mk.III air-to-air missiles for Kfirs, followed by 48 Python Mk.IVs, in 1998. Lacking money for an advanced new fighter, like Russian-made MiG-29SMT, and after failing to ascertain US permission for acquisition of eight surplus Lockheed F-16s, in 1998, Ecuador ordered a new batch of eight Kfir C.2s from Israel, at a total price of $40 million. The USA intervened, prohibiting delivery of six of these aircraft, so that the Escuadron 2113 acquired only two attrition replacements, in 1999. Nevertheless, the whole fleet was upgraded to C.7 standard in the 1990s, a version powered with a specially adapted variant of the J79-GE-J1E engine, with some 454kg additional afterburning thrust, as well as two extra hardpoints mounted directly bellow the intake ducts, as well as revised cockpit with HOTAS controls. In the late 1990s, at least two Ecuadorian Kfirs were further upgraded to C.10 standard, equipped with ELTA 2032 pulse-Doppler radar, ELTA EL/M-8202 advanced self-protection jammer, more advanced cockpit with helmet mounted display, single-piece windshield, IFR-probe, Python Mk.IV and Derby missiles, FLIR, and advanced chaff & flare dispensers, which makes them comparable in capability to Chilean F-5E Tiger IIIs. Simultaneously, all the Mirage F.1Jas were wired for Python Mk.III missiles.

The future of this small but elite air force is therefore most likely to search in eventual acquisitions of additional Kfir-airframes from Israel, and their upgrades to more advanced standards. Ecuadorian ability to make such acquisitions is going to depend on financial situation of the country.

Finally, the Alto Cenepa War proved the vulnerability of helicopters in operations at high levels above the sea, as well as in operations over jungle – foremost in the areas where the enemy was well-supplied with MANPADs. Especially the FAP suffered immense problems to Ecuadorian Blowpipes (described as "useless" after their deployments in Falklands and Afghanistan, in the 1980s), but also SA-16s, while Ecuadorian aircraft proved vulnerable even to Peruvian SA-16s.

Being also a typical "limited" war fought by two countries over the mutual boundary, this war therefore belongs to be more closely studied.



FAP Mirage 2000Ps were on station when Ecuadorian Mirage F.1AJs intercepted and shot down a pair of Peruvian Su-22s, on 10 February 1995. They even mounted an attempt to intercept the two Ecuadorians as these were disengaging at high speed and low level towards north, but the lack of Super 530D medium-range air-to-air missiles in FAP arsenal prevented them from becoming effective. The presence of the most potent air superiority fighters in whole Latin America of the time, was therefore only felt by RWRs of Ecuadorian Mirages. (Artwork by Tom Cooper)
---


Camouflage, Markings and Orders of Battle in 1995

Peru
FAP Order of Battle in 1995
Grupo Aéreo 3 at base Jorge Chavez/Lima
- Esc. de Helicopteros 332, Mi-8T, Mi-8MTV, Mi-17
- Esc. de Helicopteros 341, UH-1H, Bell 212, Bell 214ST

Grupo Aéreo 4 at Mariano Melgar AB/La Joya
- Esc. de Caza 411, Su-20, Su-22M-2K
- Esc. de Caza 412, Mirage 2000P/DP

Grupo Aéreo 6 at Cpt. Abelardo AB/Chiclayo
- Esc. de Caza 611, Mirage 5P/DP

Grupo Aéreo 7 at Capitan FAP Guillermo Concha Iberico AB/Piura
- Esc. de Caza-Bombardeo 711, A-37B

Grupo Aéreo de Transporte 8 at Jorge Chavez AB/Lima-Callao
- Esc. de T. 841 Boeing 707-323C, L-100-20
- Esc. de T. 842 An-32, An-74
- Esc. de T. 843 Cessna 185/421, Queen Air A80

Grupo Aéreo 9 at Renan Eloias Oliveira AB/Pisco
- Esc. de Bomb. 921, Canberra B(I).12

Grupo Aéreo 11 at Cpt. Montes AB/Talara
- Esc. de Caza 111 Los Tigres, Su-20M, Su-22M-3K

Grupo Aéreo de Transporte 42 at Coronel Vignette AB/Iquitos
- Transportes Nacionales, DHC-6, Y-12II, PC-6

Grupo de Fuerzas Especiales at Rodriguez Ballon AB/Arequipa
- Esc. Aéreo 211, Mi-25s and Mi-8s
- Batallon de Asalto y Transporte N°811, Mi-17 and Mi-8Ts, based at Jorge Chavez IAP/Callao-Lima

Grupo Aéreo 3 at BA Jorge Chavez/Lima-Callao
- Escuadrón de Helicópteros 331, Bo.105s and Bell 212s
- Escuadrón de Helicópteros 341, Mi-8s and Mi-17s

The Peruvian Army also deployed two helicopter units during the Condor War, in 1995:
- Batallón de Asalto y Transporte 821 equipped with Mi-8, Mi-17s, and Mi-26, based at Lima-Callao (BA Jorge Chavez)

- Batallón de Reconocimiento y Ataque 811, equipped with Agusta A.109K, Alouette 2, and Mi-2s, based at Chorillos heliport



AEP Mi-17s also saw intensive service during the war, and two were claimed as shot down by Ecuadorian MANPADs. The example here was seen at one of forward airfields in Peru, disgorging captured Ecuadorian troops and waiting to take Peruvian reinforcements. (Artwork by Tom Cooper)



The FAP is regularly applying indigenous camouflage patterns and colours on its aircraft - even if these are frequently based on the patterns of supplier countries. This is especially the case with FAP Mirages, which are camouflaged according to the standard camouflage pattern, albeit in colours of Peruvian choice.

During the 1980s and 1990s most of the FAP aircraft wore some kind of desert camouflage, usually consisting of Light Tan and Dark Brown (or Chocolate in the case of early Su-20Ms) over, and Light Blue or Pale Grey under. The Su-22Ms also have a panel painted in Light Grey in front of the cockpit. Unit insignia - when carried - is applied either on the forward fuselage (Su-22s), or on the fin (Su-22s and Su-22Ms). Serials are always applied in Black on the fin, and regularly repeated on the covers of the front landing gear. This remained the case even on Peruvian Mirage 2000Ps. Ever since, however, the FAP aircraft increasingly get new camouflage patterns: MiG-29s were left in their "air superiority" mix of Grey and Light Blue, while Su-25s were delivered in Dark Green overall. In the meantime, refurbished and upgraded Su-22s were all camouflaged in a completely new pattern, consisting of Dark Ghost Grey, Dark Green, and Olive Green overall.

The currently valid serialling system was introduced in 1960, and is as follows:
- 00 thru 199: Fighters
- 200 thru 299: Fighter-Bombers
- 300 thru 399: Transports
- 400 thru 499: Trainers
- 500 thru 599: Miscellaneous
- 600 thru 699: Helicopter

Helicopter and Transports also regularly carry the title "FUERZA AEREA DEL PERU" applied on the fuselage.

Specific aircraft types were camouflaged and serialled as follows:
- Hunter F.Mk.52: FAP Hunters wore the standard camouflage pattern in extra dark sea grey and dark green over, and silver-grey under. Their serials, applied in black on rear fuselage, were: 630, 631, 632, 633, 634, 635, 636, 637, 638, 639, 640, 641, 642, 643, 644, 645. The sole T.Mk.62 was ex-RAF WT706 and serialled 681 in FAP service.

- T-33A: The camouflage of the example seen later in service with FAP consisted apparently of tan and dark olive green, partially overpainted by light olive green. Black serial was applied on nose and rear fuselage: 21.

- Canberra B(I).Mk.8: Original serials were 474, 475, 476, 478, 479, 480, 481 and 482, but these were changed to 206, 207, 208, 209, 210, 211 and 212, respectively, in 1960 (note that 479 crashed only 17 days after delivery from the UK, while 476 crashed in 1959).

- Mirage 5P: Mirages were delivered to Peru in camouflage consisting of dark sea grey and dark grey over, pale grey under; they wore large national colours on rear fin and large serials on forward fuselage. After modifications, the whole fleet was repainted in dark earth and sand over, white under. Serials of the first batch were:101, 102, 103, 104, 105, 106, 107, 108, 109, 110, 111, 112, 113, 114. Serials of the second batch were 182, 183, 184, 185, 186, 187, 188, 189.

- Mirage 5DP: Camouflage and markings as above, serials of the first two were 198 and 199; the third example was serialled 197.

- A-37B: Light sand and light earth over, pale grey under. US serials were 74-1694 thru 74-1717 and 75-0559 thru 75-0680, while their FAP serials were 115 thru 131, 133 and 134, 136, 137, 139, 141, and 144 thru 156.

- Su-22/Su-20M: Early camouflage appears to have consisted of sand and flat black – or chocolate brown – over, and Russian light blue under, with a light-grey anti-glare panel in front of cockpit; this was later obviously changed to dark earth and sand over, pale grey under. Wing insignia was in earlier years frequently applied on the fin, later the tradition of squadron insignia applied on forward fuselage was introduced instead. Extensive stencilling was obvious over most of aircraft, applied in yellow. Known serials of FAP Su-20Ms are: 014 (shot down on 10 February 1995), 017, 020,

- Su-22M/Su-22M-3K: Dark earth and sand over, black serials on fin and underside of port wing:175, 176, 178.

- Su-22UM-3K: Dark earth and sand over, light blue-grey under. Black serial on fin:

- Mirage 2000P: Dark earth and sand over, light blue-grey under. Black serial on fin and upper side of starboard wing: 051, 054, 060, 061, 062

- Mirage 2000B: Dark earth and sand over, light blue-grey under. Black serial on fin and upper side of starboard wing: 195.



The child of the Alto-Canepa War: in reaction to its problems with the FAE during the war, and lacking finances to purchase the additional expensive Mirage 2000s, Peru finally started acquiring MiG-29s from Belarus and then Russia. Eventually a total of 15 MiG-29S, three MiG-29SE, and two MiG-29UB. The example shown here, 030, was the first MiG-29S acquired by FAP and is now operated by Esc. de Caza/Bomb. 612, based in Chiclayo. The fleet has seen some attrition already, then two examples were lost: an unidentified airframe on 2 December 1997, and the serial 031, that crashed on 13 March 2001. In the last two years several examples were modified to become compatible with the R-77/AA-12 active-radar-homing, medium-range air-to-air missile - the first such weapon in the whole Latin America.
---


Ecuador
FAE Order of Battle in 1995
Comando de Operationes
Ala de Combate 21 at Taura AB/Guayaquil
- Esc. de Combat 2111 Jaguar S/B 11 fighters
- Esc. de Caza 2112 Mirage F.1EJ 13 fighters, detachment of two at Macas or Mariscal Lamar
- Esc. de Combate 2113 Kfir C.2 9 fighters, detachment of four at Macas or Mariscal Lamar

Ala de Transporte 22
- Esc. de Trsp. 2211 DHC-6 at Taura AB/Guayaquil
- Esc. de Trsp. 2212 SA.316B
- Esc. de Trsp. Cessna 150

Ala de Combate 23 at Taura AB, Detachment "Air Group Amazon" at Manta AB/Macas
- Esc. de Combate 2311 A-37B 7 fighters
- Esc. de Combate 2312 AT-33 ? fighters
- Esc. de Combate 2313 Strikemaster Mk.89/89A

Ala de Transporte 11 at Quito Int. Airport
- Esc. de Trsp. 1111 Twin Otter DHC-6-300, HS.748, DHC-5D
- Esc. de Trsp. Hercules C-130H/L-100-30, Boeing 727

EMA
- T-34C, T-4 at Salinas AB

In general, in the 1980s and early 1990s FAE fighters and fighter-bombers were painted in Grey-Brown and Dark Green over. An exception were Mirage F.1s, painted in Grey-Green and Dark Olive over, and light grey under. Since the early 1990s Kfirs are painted in Ghost Grey over and Light Grey underneath. Serials, always prefixed by "FAE" are usually carried on the fin. Transports and helicopters usually carry the title "FUERZA AEREA ECUATORIANA" in black on the fuselage.

- Canberra B.Mk.6: Silver-grey overall, national colours on rudder and large black serials on rear fuselage; later on (after refurbishment in the UK) also codes with prefix BE as well as more complex serials were introduced on forward fuselage, as follows: 801/BE-801 later 71390/BE-390, 802/BE-802 later 71391/BE-391, 803/BE-803 later 71402/BE402, 804/BE-804 later 71405/BE-405, 805/BE-805 later 71411/BE-411, 806/BE-806 later 71409/BE-409.

- FAE Strikemaster Mk.89: Extra dark sea grey and dark green over, pale grey under. Serial in black and unit insignia on the fin, national colours over the whole rudder, code on the nose, title FAE in black on the upper side of the starboard wing: FAE246/T46, FAE259/T59 (armed with Mk.81 bombs), FAE261/T62, FEA263/T63, FAE264/T64.

- A-37B: the first 12 examples were 73-374/FAE374, 73-375/FAE375, 73-376/FAE376, 73-377/FAE377, 73-378/FAE378, 73-379/FAE379, 73-380/FAE380, 73-381/FAE381, 73-382/FAE382, 73-383/FAE383, 73-384/FAE384 and 73-385. Serials of subsequently acquired examples are not known, but might be: FAE311, FAE313, FAE315, FAE316, FAE318, FAE339, FAE347, FAE348, FAE350, FAE372 and FAE392 "Tiwintza" (damaged by SA-12, on 11 February 1995).

- Mirage F.1JA/F.1JE: Dark green and dark sea grey over, light grey under. Serials applied in black on fin, sometimes together with unit insignia: FAE806, FAE807,

- Jaguar ES: standard RAF camouflage in dark sea grey and dark green over, with light grey under; at least one aircraft is camouflaged in the "negative" of the standard pattern; known serials are: FAE302, FAE303, FAE305, FAE309 ("negative" camouflage), FAE327

- Kfir C.2/C.7: Original camouflage of Ecuadorian Kfirs was dark green and light grey-green over, white under. After modifications undertaken in the late 1990s, the whole fleet was painted in an "air superiority" camouflage, apparently consisting of only one shade of light grey over, and white under. Serials are applied in black, on fin: FAE903, FAE904, FAE905, FAE908, FAE909,

- C-130H: USAF SEA-camouflage, title FUERZA AEREA ECUATORIANA and serial applied in "counter-shading" style on forward fuselage: FAE812

- SA.316B Alouette III: olive drab overall, black serial on the boom and national colours over the whole rudder: FAE397

- Bell 206: disruptive pattern of olive drab and ochre overall, black serial on the TH-57

- T-41D: olive drab over tan on upper sides, and pale grey on lower sides, small black serial on the fin: FAE0017

- DHC Twin Otter: extra dark sea grey and dark green over, pale grey under; national colours over the whole rudder, unit insignia on the nose and black serial on rear fuselage: FAE



The Kfir "FAE909" was the second Ecuadorian fighter of this type involved in clash with Peruvian A-37Bs, on 10 February 1995. It is seen here as after the upgrade to Kfir C.7 standard, in new camouflage. In the course of the uprgade process, the Ecuadorian Kfirs have got a new nose, with more volumen, similar to that of the Kfir TC.7 - required for additional avionics. The aircraft were also equipped with Python Mk.3 air-to-air missiles. Ever since several of Ecuadorian Kfirs were upgraded even further, to Kfir C.10 standard. (Artwork by Tom Cooper)
---


Sources & Bibliography

- "AIR WARS AND AIRCRAFT; A Detailed Record of Air Combat, 1945 to the Present", by Victor Flintham, Arms and Armour Press, 1989 (ISBN: 0-85368-779-X)

- "Profile Publications" series, Profile Publications Ltd., Leatherhead, Surrey, from the late 1960s and early 1970s.

- Ian Allan "At War", "Postwar Military Aircraft", and "Modern Combat Aircraft" series

- ENCYCLOPEAEDIA OF THE WORLD'S AIR FORCES, by Michael J.H. Taylor, Multimedia Books Ltd., 1988 (ISBN: 1-85260-135-3)

- THE PENGUIN ENCYCLOPEDIA OF MODERN WARFARE, by Kenneth Macksey & William Woodhouse, Penguin Group, 1991 (ISBN: 0-670-82698-7)

- DASSAULT-BREGUET MIRAGE III/5, by Salvador Mafé Huertas, Osprey Publishing Ltd., 1990 (ISBN: 0-85045-933-8)

- WORLD'S AIR FORCES, by John Pacco, JP Publications, 1992 (ISBN: 90-801136-1-1)

- MIRAGE: THE COMBAT LOG, by Salvador Mafé Huertas, Schiffer Military Publishing, 1996 (ISBN: 0-7643-0168-3)

- AEROSPACE ENCYCLOPEDIA OF WORLD AIR FORCES, edited by David Willis, Aerospace Publishing, 1999 (ISBN: 1-86184-045-4)